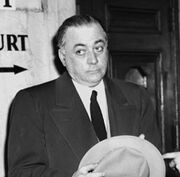 Frank Abbatemarco (born 1899 - died November 4, 1959) known as "Frankie Shots", was a capo in the Profaci crime family.
Biography
Abbatemarco was an policy bank (numbers) operator for the Profaci crime family during the 1940's and 50's and was the capo of "Crazy Joe" Joe Gallo and his brothers. He was the Gallo brothers' mentor in the mob.
One of New York's many policy operators, Frank Abbatemarco was obligated to pay a certain amount of money or "taxes" in the form of protection money. However, suffering financial losses, he had fallen into debt by the late 1950s. When Joe Profaci demanded Abbatemarco pay $50,000 in "back taxes", Abbatemarco was unable to raise the money and was killed by Profaci gunmen near Cardiello's Tavern on November 4, 1959. He was the father of Anthony Abbatemarco known as "Tony Shots", who later became a high ranking member of the Colombo crime family.
Frankie Shots murder sparked a bloody gang war that would last for decades between the Gallo Gang and the Profaci, later Colombo crime family, culminating in the murder of Crazy Joe Gallo in April of 1972 outside of Umberto's Clam House.
Community content is available under
CC-BY-SA
unless otherwise noted.