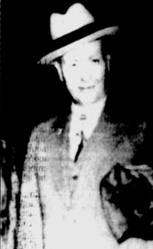 Francesco "Frank" Amato (1893-1973) was a onetime boss of the Pittsburgh crime family before stepping down and becoming the underboss to up-and-coming mobster John Sebastian LaRocca.
Biography
Amato was born in Sicily in 1893 and after arriving in America he moved to Pittsburgh were he became a naturilazed citizen in 1922. During prohibition he was a bootlegger and extortionist. During that time he was arrested twice for murder but each time the charges were dropped. Later on he muscled in on the family's gambling operations and used his bootleg profits to invest in vending machine rackets.
Amato became a prominent member of the Pittsburgh family under Vincenzo Capizzi. Capizzi had become the boss of the family after John Bazzano's murder and was the first boss to bring national attention to the Pittsburgh family. At the time, Pittsburgh was one of the fastest growing cities in the country. He eventually resigned in 1937, and was replaced by Amato. Amato controlled rackets in New Kensington and West Virginia. As boss Amato, began expanding his influence over the gambling rackets in and around Allegheny County. Amato also tried desperately to infiltrate the unions of the steel workers. Amato's efforts were met with little success. In 1956 he became ill and resigned becoming underboss of John Sebastian LaRocca.
Amato died of natural causes in 1973. His son Frank, Jr. also became a member of the Pittsburgh LCN family and died in 2003.