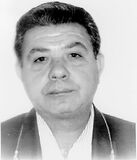 Frank "Francesco" Diecidue (February 20, 1915 - October 19, 1994) was the longtime underboss of Santo Trafficante, Jr. in the Tampa crime family.
Biography
Diecidue was born into a connected family. His father was also a member of the Trafficante family and was backed by the Mangano brothers from Brooklyn, New York. During the 1940s, Diecidue was arrested at least four times for violation of lottery laws in addition to being convicted of running a lottery operation in the 1950s, for which he was sentenced to 5 years in prison. He was legitimately employed as the co-owner, along with his brothers, of the Diecidue produce co. and as a club manager.
While his boss Santo Trafficante, Jr. crisscrossed America and Cuba to meet up with colleagues, Diecidue formed his own crew and operated from Tampa. His crew was heavily involved in loansharking, large scale bookmaking, numbers (a game which was played amongst the poor community), arson and narcotics trafficking, he was closely associated with Primo Lazzara. Diecidue also operated the company Dixie Amusment, Inc. In 1975, police officer Richard Cloud was murdered. He had previously been making inroads into the activities surrounding the Tampa underworld. Diecidue was seen as the chief conspirator. In 1976 he was found guilty of firearms possession, murder conspiracy and racketeering. Given a 40 year sentence, Diecidue and others were then released in 1979, following an unbelievable overturn of the convictions. After Santo Trafficante, Jr. died in 1987, authorities speculated that Diecidue would become the new boss. However, Diecidue remained the number two of the family until his death on Oct. 19, 1994. Vincent LoScalzo is the reputed current boss of the Trafficante crime family.