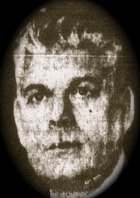 Frank Ianni (born June 10, 1886- died Jan. 9, 1958) was an Italian-American businessman and reputed boss of the Dallas crime family from 1956-1958. He was the father of fellow Dallas mobster Joseph Ianni.
Biography
Ianni was born in Calabria, Italy and was known to his associates as "Big Frank". Ianni first resided in Greenwich, Connecticut and New York upon his arrival in the U.S. before moving to Dallas where he established a bakery during the 1920s and was involved in bootlegging, narcotics and gambling. He was also involved in Dallas horse racing circles and was himself a race horse owner, which earned him a lot of money. He was said to conduct himself with class and dignity. He was an associate of Benny Binion and fellow Dallas crime family mobster Joseph Civello.
Ianni was first convicted of narcotics trafficking in 1925 in New Orleans, Louisiana. In January of 1937, Ianni was indicted along with Civello, Louis "Daddy" Ginsberg and mobsters from the New Orleans crime family for running a large scale narcotics ring which dealt in heroin and morphine. In all 9 Dallas mob members received prison sentences. This case was the first known documentation of criminal dealings between the Dallas and New Orleans crime families. Ianni was sentenced to 7 years, 5 of which were suspended, while Civello received 15 years for his role in the drug ring. In 1953, the McCarran Act was passed and the INS, which had already tried to deport Ianni once, tried again to deport him from the U.S. based on his past heroin trafficking convictions, but the INS's efforts failed once more.
Boss of the Dallas Family
While Civello was still in prison, it is believed that Ianni returned to Dallas where he consolidated his powerbase. After his release from prison he was faced with a deportation order which was later overturned by a Presidential pardon conceded by Harry S. Truman. In 1956, after the death of Philip Civello, the father of Joseph, Ianni became the underboss of the Dallas family and shortly thereafter became boss with the death of "J.T." Joseph T. Piranio. His reign as boss was short lived. Ianni died of natural causes in January of 1958.
His son Joseph Ianni was also a member of the Dallas crime family and rose to become one of the most powerful members of the Dallas mob during the 1960s and 70s and was believed by many to have been the successor of Joseph Civello as boss upon his death in 1970. Joseph Ianni was said to be a close associate of New Orleans mob boss Carlos Marcello. He died in 1973, giving rise to "Egyptian Joe" Joseph Campisi.