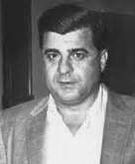 Francesco "Fat Frank" Majuri (April 18th 1909–1983) was a New Jersey mobster and the former Consigliere of the DeCavalcante crime family. His son is Charles Majuri, a longtime recognized Captain in the Newark faction of the same crime family.
Biography
Frank T. Majuri stood at 5'0 and weighed 229 lbs with dark brown hair, brown eyes, heavy build. He lived in Elizabeth, New Jersey and married Carmela Camiano. He was brother of John, Vincent, Anthony, Louis and one sister Bessie. He claimed that he was a labor foreman for C.F. Brown & Co. in Tromley Point in Linden, New Jersey. After Filippo "Phil" Amari became boss of the New Jersey Mafia family later known as the DeCavalcante crime family, Majuri was promoted Caporegime and later in the mid 1950s, the family Underboss. After Amari officially retired due to internal rivalry between the Newark and Elizabeth factions of the family, Majuri, along with Louis LaRasso, attended the Apalachin Meeting in 1957 as the only representatives of the small DeCavalcante crime family.
After returning to New Jersey, Nicholas Delmore was installed as the new boss of the family with the retirement of Amari. Delmore demoted Majuri to captain, and promoted Louis LaRasso as the new Underboss, however, with the death of Delmore in 1964, his nephew Sam DeCavalcante was quickly installed as boss, who promoted Majuri back to the top circle of the family as its reputed Consigliere. DeCavalcante and Majuri quickly became two of the most powerful mobsters in New Jersey and doubled the family's membership and profit. Majuri kept operating in the Newark faction as Consigliere throughout the 1960s and early 1970s.
But with the evaluation of Majuri's rival Giovanni Riggi as the new boss upon DeCavalcante's retirement in the mid 1970s, Majuri was replaced with Riggi's underling Stefano Vitabile as new acting consigliere. According to US law enforcement, Majuri's old crew in the Newark faction was taken over by his son Charles in the early 1980s. Frank Majuri died later in 1983, and Stefano Vitabile became the official DeCavalcante crime family Consigliere.