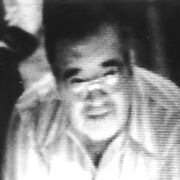 Frank Manzo (February 2, 1925 – October 23, 2012), also known as "Francesco Manzo", "Frank Manse", "Frankie the Wop", was a soldier in the Lucchese crime family. Manzo oversaw the crime family's interests at John F. Kennedy International Airport ("JFK"). Manzo made millions of dollars in labor racketeering schemes in the construction and air freight industries.
Biography
Frank Manzo worked in the Vario Crew which was run by Captain Paul Vario. He served as a union delegate in the United Brotherhood of Carpenters and Joiners of America and controlled local 295 at JFK Airport, in Queens. Manzo also owned Villa Capra, a restaurant in Cedarhurst, New York, where he conducted illegal activities. He was convicted of labor racketeering based on the testimony of mobster Louis Fratto and was forced out of the union.
Note that Frank Manza was not the same person as the man (with the same nickname) who was kidnaped by James McBratney et al in 1972. The other man was "Frankie the Wop" Gagliardi who was a Gambino Family capo at the time of his kidnapping.
In 1983, Manzo was overheard in an FBI wiretap, saying, "We rule this airport". Manzo was involved in the crime family's control of numerous labor rackets at John F. Kennedy International Airport and the concrete industry in the 1970s and 1980s. Manzo and Vario were convicted in 1985 with attempting to extort payments from trucking firms at JFK Airport. In 1986 Manzo pleaded guilty to racketeering and was sentenced to twelve years in prison and fined $325,000.
On April 8, 1987, Manzo was banned from New Jersey casinos due to his history of involvement with organized crime.
Manzo was released from prison in 1994. In 1995 Manzo was charged with racketeering for extorting $2 million in payoffs over a 13 year-period from cement company owner John Quadrozzi between 1978 and 1991. However, the charges were dropped when the judge ruled that the crimes were covered under his 1986 plea agreement.
On October 23, 2012, Manzo died in his sleep. He is survived by his wife and his two sons. His eldest son, Leone, died from heart complications in 2001.
In popular culture
Manzo is portrayed as the character "Frankie The Wop" (by actor Tony Lip) in Martin Scorsese's 1990 film, Goodfellas.