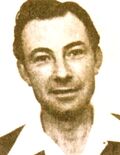 Frank Isador "Big Frank" Matranga (born Aug. 21, 1913- died 1969) was a longtime member and capo of the Los Angeles crime family. He was a part of the Matranga clan who controlled the Los Angeles families San Diego faction and were closely aligned with the Detroit Partnership.
Biography
Matranga was born in Balestrati, Sicily and upon his arrival in California became a prominent underworld figure during three decades. He was married to Frances Priziola, the daughter of powerful Detroit mafioso John Priziola. He was related to several Inland Valley, San Diego and Los Angeles crime figures, including San Diego faction leader Joseph Matranga. He and his brothers, Joseph and Gaspare Matranga, owned many bars in the downtown area of San Diego. During his time in San Diego Matranga was involved in narcotics trafficking and was considered one of the most powerful younger members of the mafia in San Diego. Matranga was a friend and associate of L.A. family underboss Joseph Dippolito. He later relocated his base of operations to Los Angeles where he became a Capo of the Los Angeles family's Orange County crew.
The 1960s would be a troublesome time for Matranga as he was confronted with many legal issues beginning in February of 1964 when he was arrested and charged in a Lake Arrowhead land fraud scheme. Matranga and four other men illegally acquired title to 50 parcels of lake front property. In the same year he was named in a probe looking into a dinner meeting between members of the California ABC commission and San Diego's Matranga family which had a liquor license revocation hearing scheduled for review. The land fraud case wouldn't begin until April of 1965 after a delay to avoid conflicting with the La Mesa Bowl inquiry involving Matranga and his relatives in San Diego. On June 10, 1965, Matranga was found guilty in the land fraud case and sentenced to five years probation and a $6,000 fine. On October 6, 1967, he was indicted in Orange County on charges of grand theft and conspiracy to obstruct justice. He was booked and released on $10,000 bond after an arrest warrant was issued for his arrest for breaking the terms of his 1965 probation.
On February 15, 1968, Matranga was sentenced to one to 10 years in prison for breaking the terms of his probation. He was immediately transferred to the Chino Institute for Men.
'Big Frank' Matranga died in prison in 1969 of natural causes. He was succeeded as capo of the Orange County crew by mob soldier Dominic Brooklier, who would later become the boss of the Los Angeles family in 1974.