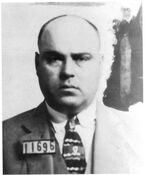 Frank "Ciccio" Milano (born 1891 - Calabria, Italy - died 1970) was a powerful Cleveland area crime boss and leader of the Mayfield Road Mob. Milano later became the boss of the Cleveland crime family and was allegedly a member of The Commission.
Biography
Often described as shrewd and cunning. Milano led a gang known as the Mayfield Road Mob, a dangerous group of powerful criminals who ran Cleveland's numbers, drug and prostitution operations. Milano would later successfully merge his gang with another known as the "Licatese faction" led by John DeMarco and The Combination (he local Jewish Syndicate) which resulted in the formation of the Cleveland La Cosa Nostra family. Milano expanded the crime family's influence into gambling, loansharking and fledgling labor unions, as the end of Prohibition came along. Such post-Prohibition organized crime activities became the mainstay operations of the Cleveland crime family for decades to come. Milano was the boss of the Cleveland crime family from 1930 until 1935. His predecessor, Joseph Porrello, was murdered inside Milano's restaurant in Cleveland's Little Italy, while believing he was going to a meeting, Milano had once reportedly demanded a piece of the lucrative Porrello corn sugar business during Prohibition. Frank Milano and several of his restaurant employees were arrested but only charged with being suspicious persons in the aftermath of the Joe Porrello slaying. The gunmen were never actually identified.
After the bombing of Jim Porello's home, the Porello's retired from the Cleveland rackets, making Milano's Mayfield Road mob the dominant force in the Cleveland area. In 1931, at Lucky Luciano's reconstruction of the American Mafia after the Castellammarese war in New York, he was believed to be one of the members of the national Commission. His brother Anthony Milano "The Old Man", became Frank's second in command. Anthony remained the underboss of the organization even after Frank left Cleveland. In 1935, Milano packed his bags and fled to Veracruz, Mexico before he could be tried for income tax evasion. He lived in Mexico for a long time before eventually relocating to Los Angeles. It is believed that Milano also became a top figure in the Los Angeles underworld.
He died of natural causes in 1970 in a Los Angeles hospital. His nephews, Carmen and Peter Milano, would go on to become leaders of the Southern California based Los Angeles crime family.