Frank Monte (June 21, 1931 South Philadelphia - May 13, 1982 South Philadelphia) was a member of the Philadelphia crime family and former Consigliere for Nicodemo Scarfo.
Family Problems
In 1979 Salvatore Merlino and Robert (Bobby) Lumio murdered 31-year-old drug dealer Michael (Coco) Cifelli for selling drugs to the son of Frank Monte, he was gunned down as he was making a call in a telephone booth just inside a bar, Priori's, at 10th and Wolf Streets in Point Breeze, Philadelphia, Pennsylvania. a capo from Cinnaminson Township, New Jersey. Frank served under Philip Testa and later Nicodemo Scarfo. He oversaw illegal gambling operations in Atlantic City and New Jersey for the crime family. Monte was later promoted to be consigliere in 1981 by Nicodemo Scarfo.
Promoted to Consigliere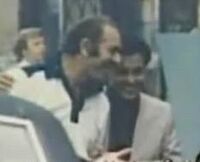 Frank Monte was known for his short temper in the Italian neighborhood of South Philadelphia. Monte was an Angelo Bruno supporter. He killed Frank Sindone for his part in Bruno's murder. Sindone was told to go to a house in South Philadelphia for a meeting with Salvatore Merlino, Salvatore Testa and Monte. While Monte shook Sidone's hand, Merlino took out his gun and shot Sindone. After the hit, Monte was made a capo.
Monte was involved in illegal gambling and hung out at a restaurant owned by Philip Testa the new boss. Monte would frequently stay long hours at the restaurant with Testa because they were good friends. Not long after the Bruno murder, Testa was also murdered when a nail bomb exploded in the front of his house. After Testa's murder, the Commission appointed Nicodemo Scarfo as the new boss. Due to his friendship with Scarfo, Monte became the Consigliere.
Riccobene War
Nicodemo Scarfo would lead the most bloody era in mafia history. The war with the Riccobene brothers was the beginning. A Philly Mob faction headed by captain Harry Riccobene did not want to pay Scarfo a percentage of his business because Angelo Bruno never collected from Riccobene. Several men from both sides were murdered. Nicodemo Scarfo told Monte and Raymond Martorano to meet with Harry's brother Mario Riccobene. Mario did not get along with Harry, however, he refused to go against his brother and told Harry what happened. Soon Harry Riccobene took matters into his own hands.
Monte was murdered on May 13, 1982, by Mario Riccobene, Joe Pedulla and Vic De Luca. These men camped out in a van near Monte's parked Cadillac Deville, waiting for him to come outside. Several hours later, Monte emerged and started to get into his car. Pedulla fired on Monte three times with a sniper rifle, killing him. In 1984 Harry Riccobene was arrested and convicted for ordering the killing of Frank Monte.