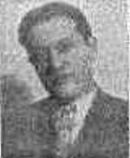 Frank Morelli (date of birth and death unknown) known as "Butsey", was an early organized crime figure and boss of a small crime family based in Providence, Rhode Island, that later became part of the New England based Patriarca crime family.
Biography
A hazy figure in organized crime history, Morelli was reportedly an immigrant who initially settled in Brooklyn, NY, and then moved with his family to Providence, Rhode Island. In 1917, Morelli formed the Providence crime family. Morelli went on to control bootlegging and gambling operations in Providence, Rhode Island, Maine and Connecticut which he controlled until the later Prohibition Era.
Morelli and his brothers allegedly performed a number of daring robberies. (Some believe them responsible for the crimes charged against Sacco and Vanzetti.).
In 1932, Morelli merged his Providence family with Buccola's Boston family forming the New England crime family, later known as the Patriarca family, effectively stepping down as boss and becoming the Underboss of Philip Buccola from 1932 until he retired from organized crime in 1947.