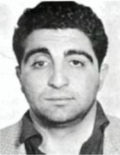 Frank Paul "One Eye" Dragna (born August 11, 1924 - died November 3, 2012) was a member of the Los Angeles crime family and son of powerful Los Angeles crime boss Jack Dragna.
Biography
Dragna was born in Los Angeles, California. He had a sister Anna Rosalia Dragna, who later married and changed her surname to Niotta. Frank was a USC graduate and World War II veteran who lost an eye in the war and was nicknamed "One Eye" to distinguish him from his cousin who had the same name (his right eye was made of glass).
After his return from the war Dragna, a purple heart recipient, resided in San Diego where he owned and managed the Gold Rail bar, which was later taken from him by the IRS as a result of supposed IRS debt related to his father.
In 1950, Dragna along with his uncle Tom Dragna, cousin Louis Tom, and Frank Paul "Two Eyes" Dragna were arrested (his only known arrest) after Jack fled the state after being named in the California Crime Commission report as a member of a crime syndicate in Los Angeles. The four along with Girolamo "Momo" Adamo were taken into custody by authorities, who believed they were responsible for bombing Mickey Cohen's home or knew who was. After being questioned, none of them were charged and they were released.
Before and after his fathers death in 1956, and for most of the remainder of his life he was harassed by law enforcement. Aside from his father Jack and his uncle Tom, his cousin Louis Tom Dragna (Tom's son) was the only other Dragna family member who became heavily involved in the crime family. Frank Paul Dragna reportedly died of natural causes on November 3, 2012.