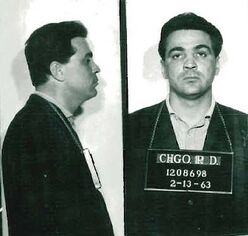 Francis John Schweihs (February 7, 1932 – July 23, 2008), aka "Frank the German", was a German-American gangster, mass murderer, and veteran hitman for The Chicago Outfit, He was under indictment in the Operation Family Secrets case for the crimes of racketeering, murder, bombing, bribery, and extortion. It is believed he had participated in or had knowledge of hundreds of murders going back over three decades, including brothers "Tony the Ant" Anthony Spilotro and Michael Spilotro, Allen Dorfman of the Teamsters Union, Teamster President Jimmy Hoffa, a corrupt Chicago police captain, Chicago Outfit hitman and informant Richard Cain, Chicago Mafia boss Sam Giancana, notorious loan shark, serial killer and Chicago Outfit hitman "Mad Sam" Sam DeStefano, Chicago Outfit hitman Chuckie Nicoletti and countless others. Schweihs was an extremely loyal hitman of the Chicago Outfit for over three decades, and for years he was one of Chicago Mafia boss Sam Giancana's bodyguards, enforcers and top assassins. Schweihs was a close friend and associate to Joseph Lombardo, Sam DeStefano and John DiFronzo. Schwiehs's mentor and father-figure was powerful and notorious Chicago Outfit captain Johnny Roselli.
Journalist Thomas Burdick, from his own investigation of the case, concluded that Schweihs, not the man who was actually convicted, was the likely killer of cigarette boat designer Donald Aronow, in 1987.
Schweihs had been convicted of murder, racketeering and extortion in 1989 and was sentenced to 13 years in prison and was ordered to pay $245,000 in fines and restitution which he paid immediately.
Schweihs ran with numerous Chicago Outfit crews, one of them the "Chinatown Crew" also known as the "26th Street Crew." Its operations were run out of the Old Neighborhood Italian American Club, originally on west 26th Street, in Chicago. Its founder, "The Hook" Angelo LaPietra, and Schweihs' partner skimmed $2 Million from Las Vegas casinos in the 1980s and built a new massive club structure on west 31st Street, in Chicago. In 1991, Schweihs collected $60,000 a month from the On Leong, in Chinatown, to allow them to run their casino there. The money was delivered to the Italian Club.
The last known city of residence of Schweihs was Dania Beach, Florida, before he become a fugitive in April 2005. He was a fugitive along with Joseph "Joey the Clown" Lombardo, who each went their separate ways; however, Schweihs was eventually caught in Berea, Kentucky, on December 16, 2005, and less than a month later, Lombardo was caught on January 13, 2006, in the Greater Chicago area. Schweihs' trial was separated from the other defendants' because of his poor health (he had cancer). His co-defendants were convicted in the original trial in 2007. Schweihs remained in jail pending his trial. After his health had been judged to have improved, he was finally scheduled to go on trial in October 2008. Indeed, Schweihs' health had improved so much that he was able to try to stare down and verbally challenge lead federal prosecutor T. Markus Funk and prosecutor Amarjeet S. Bhachu.
Schweihs died on July 23, 2008, from complications related to his cancer.
Schweihs' daughter, Nora Schweihs, is a cast member of Mob Wives Chicago.
Community content is available under
CC-BY-SA
unless otherwise noted.