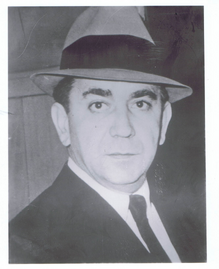 Gabriel (Kelly) Mannarino (born October 31, 1915- died July 18, 1980) was a capo of the Pittsburgh crime family who oversaw their interests in Cuba during the Pre-Fidel Castro era, a time in which he was closely associated with Florida mob boss Santo Trafficante, Sr.
Cuban gambling paradise
Kelly Mannarino was born in 1915 and would rise into the family as the number two man. He mainly earned his stripes due to his work in Cuba where he co-owned the Sans Souci Hotel and Casino. In 1955 the only casino's noting as operational in Havana were the Tropicana and the Sans Souci. Together with Santo Trafficante, the other owner of the Sans Souci, they made the casino highly profitable. During that time Cuba was run by Fulgencio Batista (1902-1973), who was known for having criminal ties to American Mafiosi. The American Mafia was allowed to turn Havana into a massive gambling city so tourists could have the time of their life with all sorts of ventures which were not allowed in America. During that time, mobsters, especially Meyer Lansky had many interests in Cuba and Mannarino also worked together with the Jewish ganglord. In October 1957 Mannarino joined John Sebastian LaRocca to the Apalachin Meeting and was one of the men captured after the police raided the meeting, causing a nationwide attention to the people and government that a national crime syndicate did exist.
However, Batista's reign in Cuba ended after Fidel Castro took over after a massive guerilla operation in 1959. Batista fled to the Dominican Republic and Castro became the new president. One of the first things done by Castro was a new strict rule against gambling. Gangsters were not allowed to operate anymore in Cuba and casino's were closed down. Mannarino also had to leave the country and returned to Pittsburgh. Once back he stayed active in the gambling rackets. Together with boss John Sebastian LaRocca he was indicted for their alleged involvement in receiving kickbacks from the Teamsters Central States Pension in 1969, but he was severed from the case due to illness. He had been diagnosed with cancer and eventually died in July of 1980. During his days in the mob, the FBI said Mannarino was the most active member of the Pittsburgh crime family.