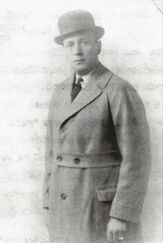 Gandolfo Curto (born 1890- died June 24, 1929) known as "Frankie Marlow", was an early Organized Crime figure and associate of Frankie Yale
Biography
Curto was born in 1890 and became a member in the crime family of Frankie Yale, later known as the Gambino crime family, during the 1920s. "Frankie Marlow" ran a major gambling and bootlegging operation in New York City. He was also a boxing manager and night club owner. He was a silent partner in the ownership of the infamous Cotton Club in Harlem. He was found shot to death on the street opposite the Flushing Cemetery in Queens. He was 39 years old.
In June 1929, Ciro Terranova was questioned in connection with the murder of Curto. Curto was last seen having dinner with Terranova the night he was shot to death. As a fellow Sicilian, Curto may have been approached, on behalf of the new Unione Siciliane president, with requests that he pay tribute or otherwise comply with the wishes of Joe Masseria. Curto was a leading figure in the New York crime scene, he would certainly have dismissed any such advances. Perhaps he was guilty of under-rating the seriousness of the threat posed by the "old fashioned" Morellos and paid the ultimate price. Ballistics evidence has shown that the bullets that killed Curto were fired by a submachine gun owned by Al Capone's Chicago Outfit, and that the same weapon was also used in the killing of Frankie Yale and for the Saint Valentine's Day massacre. The weapon eventually came into the hands of the authorities after the arrest of Fred Burke, a St. Louis, Missouri gunman who allegedly participated in the St. Valentine's Day massacre.
Community content is available under
CC-BY-SA
unless otherwise noted.