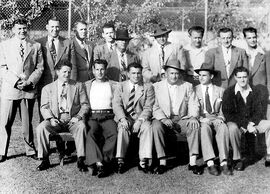 The Gangster Squad (later known as the Organized Crime Intelligence Division (OCID)) was a special unit created by the Los Angeles Police Department in 1946 to keep the East Coast Mafia and organized crime elements out of Los Angeles.
Origin
It was created by then Chief of Police Clemence B. Horrall in 1946, and it was an eight-man intelligence detail that would become known as the "Gangster Squad". Along with fighting organized crime, they were given the task of spying on corrupt cops. Criminals like Mickey Cohen, Jack Dragna, Bugsy Siegel, Jack Whalen, and Jimmy Fratianno—to name a few—were just some of the targets the Gangster Squad went after.
Preview
Much like what the 2013 film Gangster Squad notes about the real Gangster Squad, they waged war on crime and did things that would be considered illegal by today's standards. Also, as the real life Sgt. Jack O'Mara stated in the Los Angeles Times for the online article "Crusaders in the underworld: The LAPD takes on organized crime", "We did a lot of things that we'd get indicted for today". William Worton headed up the LAPD in 1949 and increased the size of the team, as well as renaming it the Intelligence Division. William Parker became Chief of Police in 1950, and expanded the team even more, including adding a female field team.