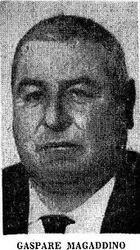 Gaspare Magaddino (born 1908, Castellammare Del Golfo, Sicily- died May 21, 1970 - Brooklyn), although being a rather unknown figure in the history of the Mafia, Gaspare Magaddino was feared and well respected in his days. He was a gunman who frequently operated in both Sicily and America. Gaspare was a cousin of Buffalo boss Stefano Magaddino and Antonio.
The drug trade
In October 1957, Magaddino was sent, together with his cousin Antonio, to a meeting in Sicily concerning a massive drug network between America and Sicily. The meeting was held at the Grande Hotel Delle Palme in Palermo. The American delegation mainly consisted out of members from the Magaddino and Bonanno family. Not long after that meeting Mangano family boss Albert Anastasia was murdered in New York and Magaddino subsequently became a suspect. Possibly because he was suspected in several crimes, such as bombings, and remained a ghost for many years.
The Bonanno War
Gaspare's force was also used during the Bonanno war from 1964 - 1968. Although most resources claim that Joseph "Bananas" Bonanno, who was reputedly banished from the Commission because he plotted against New York bosses Thomas Lucchese, Carlo Gambino and even his own cousin Stefano Magaddino, Bonanno still got the backing from his cousins. On November 10, 1967, after enemies of Bonanno made a murder attempt on 2 of his men, Bonanno reacted by ordering a hit against 3 men from the rival faction led by Gaspar DiGregorio. The victims were Thomas and Jimmy D'Angelo, and Francisco Terelli. They were all were gunned down at the Cypress Garden restaurant in Brooklyn. The gunman was described of wearing a black fedora and carrying a .45-caliber sub-machine gun. This man was Gaspare Magaddino. Most likely he was brought over from Italy to execute them.
Arrest and murder
In 1965 the Italian government was searching for Gaspare and 3 others. But in March 1968, Gaspare was arrested and tried for drug trafficking. Next to Magaddino another 13 men were tried from which 5 were from the American Mafia and 9 of the Sicilian Mafia. Amongst the 5 Americans were Santo Sorge from Detroit and Colagero Orlando. From the Sicilian Mafia Giuseppe Genco Russo and Frank Coppola were arrested amongst others. All 5 of them were also present 11 years prior at the Hotel Delle Palme for the business meeting about the Drug Trade. Strangely enough on June 25, 1968, all men were cleared. Two years later, on May 21, 1970, Gaspare was shot dead with a shotgun blast on a street in Brooklyn.