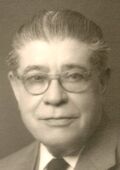 Gaspare Messina (born Aug. 7, 1879- died June 15, 1957) was a powerful mobster and believed to be the founder of the Boston-based Mafia organization, a clan that was small and relatively weak under Messina. The organization he founded would later become known as the Patriarca crime family, which is now powerful crime family of La Cosa Nostra that operates in New England, the greater Boston area and Providence, Rhode Island.
Biography
Born in Salemi, Sicily, Messina entered the United States through New York City late in 1905. He and his wife settled for a time in Brooklyn. By 1915, they relocated to Boston, where Messina became "rappresentante" of the local Sicilian underworld. In the Prohibition Era, Messina partnered with Frank Cucchiara and Paolo Pagnotta in the G. Messina & Co. wholesale grocery business of Prince Street. He moved his family to Somerville, MA, around 1926. In the late 1920s, he became president of the Neptune Oil Corporation. Messina is believed to have temporarily served as boss of bosses over the American Mafia during the 1930-31 Castellammarese War. He likely lived in New York City while serving in that capacity. He died of natural causes in Somerville in 1957.
Community content is available under
CC-BY-SA
unless otherwise noted.