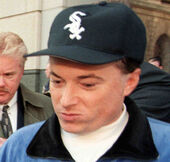 George "Georgie Boy" Borgesi (Born 1964) is a high ranking mobster in the Philadelphia crime family.
Biography
Borgesi is the nephew of Joseph Ligambi. Borgesi allegedly became a made man in the mid 1990's, and was, and still is a trusted associate of longtime Philly mob boss Joseph Merlino. He was promoted to acting Consigliere in 2000 when Steve Mazzone was elevated to underboss. In 2001 he was sentenced to 14 years in federal prison in the Merlino racketeering case. He was scheduled to be released from prison in July 3, 2012 before being charged with overseeing a loan sharking operation in Delaware County from his prison cell in North Carolina. His relationship with Ligambi is said to be strained. The two have a couple of other family members working as associates for the Philly mob.
On January 24, 2014, After 13 years in prison Borgesi was released from prison.
Community content is available under
CC-BY-SA
unless otherwise noted.