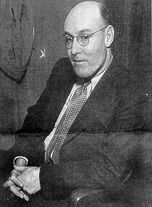 George "Les" Bruneman (died October 25, 1937) was a mobster and associate of the Los Angeles crime family from the 1920s until his murder in 1937.
Biography
Bruneman was a gambler from Redondo Beach who had aspirations of controlling all the gambling in southern California. He was an ally of Jack Dragna and Johnny Roselli, but got into trouble for repeated encroachments on their gambling and race wire concessions. Bruneman also defied a Bugsy Siegel request that all independent operations make a 10% contribution to the New York mob. Finally, after Bruneman threatened the life of Johnny Roselli, Dragna put out a contract on him.
In July 1937, Brunemann was strolling along Redondo Beach with a beautiful blonde hostess from one of his clubs when San Diego mob boss and hitman, Frank Bompensiero, and another gunman walked up behind him and put three slugs in his back. Brunemann survived. During his recovery period Bompensiero found out that Brunemann was leaving the hospital and having his dinners at the Roost Café, a classy Redondo Beach restaurant, with one of his nurses. On October 25, Bompensiero showed up with gunman Leo "Lips" Moceri and gunned him down. The police arrested another man for the murder of Brunemann and he was convicted and sent to prison.
Community content is available under
CC-BY-SA
unless otherwise noted.