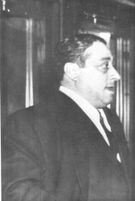 Giovanni Ormento (born August 1, 1912- died 1974) was a powerful capo in the Lucchese crime family that was heavily involved in heroin trafficking. He was known as "Big John" but also went by the aliases "John Ormendo", "John Forte" and "The Governor".
Criminal Career
Ormento was a made member in the Lucchese crime family in the 1930's and became a top ranking capo and underboss to Tommy Lucchese and later Carmine Tramunti. He was also a close associate of fellow Lucchese family capo Paul Vario. Ormento was one of the biggest heroin traffickers in the world, making billions of dollars a year thru multi-ton shipments of heroin, in the 1950's and 60's, he became a billionaire, and was involved in the French Connection.
He was married to a woman by the name of Carmela Mildred Forte with whom he had two children, Connie and Thomas. He resided with his family in Long Island. According to police reports he was often seen in East Harlem and frequented various night clubs around New York City and had good relations to the Detroit Partnership and Bonanno crime family and was known to have attended the wedding of William Tocco's children.
In 1957, Ormento was picked up along with Lucchese for attending the infamous Apalachin mafia summit when it was raided by police. Ormento was heavily involved in labor racketeering but was mostly known for being the Lucchese family's chief narcotics operator.
Arrests and Death
Ormento's arrest sheet dated back to 1937, he had three convictions of federal narcotics law violations and became the leader or capo of the notorious 107th Street mob in New York. He was once described as an important member of the mafia and along with his crew responsible for a gross part of the contraband and distribution of narcotics in the US. In 1960 he was sentenced to 5 years imprisonment and a $10,000 fine for conspiracy and obstruction of justice. After this Ormento gradually began to remove himself from mafia affairs.
He died of natural causes in march of 1974 at the age of 62.