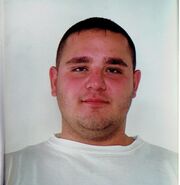 Giuseppe "Pooch" Destefano (Born 1979) is an associate of the Colombo Crime Family.
Criminal Career
On January 20, 2011, Destefano and 126 other gangsters from New York's five mob families, New Jersey's DeCavalcante family, and New England's Patriarca family were busted and charged with various racketeering charges.
The young Colombo gangster was charged with several counts of extortion and one count of possession of a firearm, when he was found to have a .44 caliber Smith & Wesson revolver. According to sources, Destefano's work routine for the mob included collecting extortion payments and threatening debtors.
He was convicted of extortion and sentenced to 50 months in prison. He is currently serving his sentence at the federal prison in Fort Dix, N.J. His release date is in April of 2017.
References
http://www.nydailynews.com/new-york/nyc-crime/exclusive-mobster-asks-leave-jail-wedding-plans-article-1.2080520
http://gangstersinc.ning.com/profiles/blogs/profile-colombo-associate-giuseppe-destefano
Community content is available under
CC-BY-SA
unless otherwise noted.