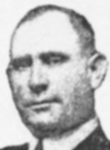 Giuseppe Pietro DiCarlo (1873 -July 9, 1922) "Don Pietro", was one of the first Mafia bosses of Buffalo, New York.
Biography
He was born and raised in Sicily and moved to the United States in 1908. He finally settled down in Buffalo around 1912. Here he went to live amongst mainly natives from the Sicilian town of Castellammare Del Golfo. The current Mafia leader of this community was a peaceful man called Angelo Palmeri (1878 - 1932) whom he befriended. Because Palmeri was a quiet person he didn't want to get into an open warfare with other gangs. Due to this many gangs operated independently from each other. DiCarlo came up with a plan to organize crime so there was more peace and especially more money to make. His plan succeeded and as result he became the Buffalo boss, replacing Palmeri. Palmeri however stayed close to DiCarlo as his adviser. They formed a strong duo and took over the Italian district and the labor rackets on the docks.
"The Good Killers"
DiCarlo is also believed of being a leading figure of the Good Killers. A crew of assassins which committed murder in New York, Detroit, Pittsburgh and others and mainly consisted out of natives from Castellammare Del Golfo. In 1921 the New York times made notification about a mysterious man, dubbed 'the chief' who controlled the Good Killers and lived in Buffalo. It is widely believed that this mysterious man was DiCarlo.
Some time later Palmeri left for Niagara Falls and left much of the city in the hands of DiCarlo. In the early 1920's DiCarlo lost his wife and his business was becoming very stressful to him. By that time, in 1922, future Buffalo leader Stefano Magaddino entered the city from Brooklyn, New York. Magaddino was welcomed by DiCarlo and was taken inside his organization. DiCarlo remained boss of the family until his natural dead in 1922 of a heart attack. Magaddino eventually took over his business and stayed boss for almost 52 years. Probably the longest term of leadership in Mafia history.
His son Joseph DiCarlo, Jr. would also become a prominent member of the Buffalo mob.