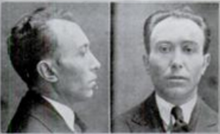 Giuseppe "Joseph" Lombardo (September 1, 1895 - 1969) known as "JL", was a Boston based mobster and shadowy crime figure with the Patriarca crime family.
Biography
Lombardo was born in Italy and became a top underworld figure in Boston during Prohibition. He was a rival of the predominantly Irish Gustin Gang led by notorious mob boss Frank Wallace. Lombardo claimed to be a cloak maker. He was arrested in 1925 and wanted in 1931 as a suspect in the murder of Frank Wallace and his henchman Bernard Walsh in what was described as a strike by the Italian mob putting the Irish mob in South Boston in their place. Lombardo was believed to be the first underboss of the New England based Patriarca crime family from 1920–1932 when he then became the family's first consigliere in 1932 until 1954 when his ally, Philip Buccola, stepped down as boss in favor of Raymond Patriarca. Lombardo operated in the numbers racket, bookmaking and murder, in addition to other criminal activities.
According to mob turncoat Vincent Teresa, Lombardo was a more powerful crime figure than history has attributed him and acted as a kingmaker during the formation of the Patriarca family; which resulted from reuniting two separate mafia groups; The Boston crime family and the Providence, New England crime family. Lombardo was the mentor of powerful Boston mobster Gennaro Angiulo and his brothers. By 1955, Lombardo was retired from the day to day running of the Boston factions rackets and died of natural causes on July 17, 1969.