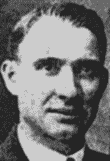 Giuseppe Siragusa (born 1882 - died Sept. 13, 1931) known as the "Yeast Baron" because he became wealthy selling yeast to home breweries during Prohibition.
Biography
Siragusa took over leadership of the Pittsburgh crime family after the murder of Stefano Monastero in 1929. It is believed that Siragusa was a loyal follower of the Brooklyn Castellammarese family led by Stefano Magaddino and later Salvatore Maranzano. Like many bosses in smaller cities, Siragusa made tribute payments to Maranzano who aspired to be the "Capi di Tutti Capi" of the American Mafia.
Siragusa was shot to death in his large Squirrel Hill home basement on September 13, 1931. Due to the timing (just days after Salvatore Maranzano was assassinated in New York), Siragusa was said to have been a casualty of Lucky Luciano's supposed "purge" of the American Mafia.
Community content is available under
CC-BY-SA
unless otherwise noted.