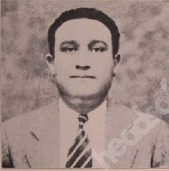 Giuseppe Spinelli (born May 5, 1894- died 1959) alias "Richard Roe", was an enforcer and soldier in the Pittsburgh crime family.
Biography
Spinelli, real name 'Philip Spallino' or "Big Mike" as he was known, was born in Agropoli, Italy. After his arrival in the U.S. he settled in Pittsburgh, Pennsylvania where he took up residence at 267 Braddock Avenue, Turtle Creek. He became involved in the American Mafia as an enforcer for the Pittsburgh crime family under Mafia boss John Bazzano, with whom he allied himself in an effort to dominate the regions criminal operations.
Spinelli, a former Volpe family friend and bodyguard, was the prime suspect behind the infamous gangland slaying of the the Volpe brothers, James, John and Arthur Volpe on July 29, 1932. Spinelli was identified as one of the alleged hitmen and was wanted for questioning by the Pittsburgh Police Department. Soon after the Volpe killings, John Bazzano was summoned to New York by the ruling mafia Commission, he was accompanied by Spinelli and another unidentified mobster, neither remained long in the Big Apple and Bazzano turned up murdered for ordering the unsanctioned hit of the three Volpe brothers. Aside from the Volpe murders, Spinelli was also a suspect in a few other gangland slayings including that of his onetime boss John Bazzano.
Spinelli remained an elusive figure, for a while at least. Three weeks after the Volpe shootings, Spinelli was spotted at a restaurant next door to Manna's barber shop, where John Volpe received his final shave and shoeshine. Spinelli reportedly fled to Canada, then traveled by ship to Italy. There, in the town of Agropoli, he was reunited with his mother, wife and two children. On Nov. 23, 1932, he was arrested by Italian authorities. Pennsylvania officials asked for Spinelli's extradition, but the Italian minister of justice said no, "Big Mike" would be tried in Italy. In December 1935, he was convicted, and sentenced to 30 years. Whatever became of Spinelli after his conviction is unknown, he reportedly died in 1959.
Community content is available under
CC-BY-SA
unless otherwise noted.