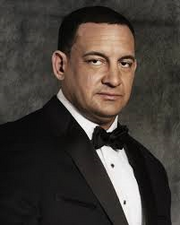 Hector "Junior" Pagan Jr. (born 1967) is a former associate of the Bonnano Crime Family who would become an informant. He is most notable for being the ex-husband of Renee Graziano, star of VH1's Mob Wives. Renee Graziano is the daughter of notorious Bonnano consigliere Anthony Graziano.

Notorious for being a rat in the incarceration of his ex-wife's father as well as the cousin of late costar Big Ang. On the featured show mob wives, The television show exposed pagan for explicitly violently threatening and harassing his ex-wife Renée Graziano. In getting his father-in-law convicted-pagan was equipped with a wristwatch with the wire hidden, provided by the FBI with his own given consent of cooperation.
Criminal Career
Pagan has more than three decades of violent and criminal behavior that began at the age of 13. During his criminal career he shifted allegiances between mob families before he settled with the Bonannos after marrying Graziano, whose father was the then consigliere of his crime crew.
Pagan was involved in selling hundreds of pounds of pot, committing numerous assaults, loan sharking and illegal gambling.
In July 2010, Pagan and reputed Gambino associate Luigi Grasso and reputed Bonanno associate Richard Riccardi robbed and murdered Luchese associate James Donovan outside a Gravesend body shop.
Mob Wives and informant
Hector Pagan made various appearance on "Mob Wives". On the reality television show he and Renee had a rocky and complicated relationship. He and Renee eventually got back together. Pagan was arrested and he became an informant. He wore a wiretap in his watch and it was later discovered he had been wearing the watch while appearing on television. He had recorded conversations with various members of the Bonanno family including Graziano, Bonanno Acting Boss Vincent Badalamenti, Underboss Nicholas Santora, and soldiers Anthony Calabrese, and Vito Balsamo, and reputed Gambino associate James LaForte
In 2014, Pagan admitted to pulling the trigger in the slaying of Luchese associate James Donovan, but agreed to cooperate against Gambino associate Luigi Grasso and Bonanno associate Richard Riccardi to lighten his own sentence. Grasso is the cousin of star Angela "Big Ang" Raiola. On January 7th 2014, Big Ang spoke about him with Victoria Gotti on Mob Wives season 5 episode 4, "RATalie". She refers to him as "Ronnie". Pagan's testimony against two of his mob associates, put them away for 30-plus-year sentences in August 2014.
In September 25, 2014 Pagan was given a reduced sentence (due to his cooperation with the FBI) of 11 years in prison for the murder and robbery of Donovan in 2010.

People killed by Pagan Jr.
1). James Donovan/ Luchese associate/ Donovan was targeted because he was known to carry around thick wads of cash.
References
http://www.huffingtonpost.com/2012/08/20/hector-pagan-mob-wives_n_1812973.html
http://www.thedailybeast.com/articles/2014/03/12/mob-wives-courtroom-drama-exposes-rat-but-protects-jury.html
http://nypost.com/2014/03/11/mob-wives-stars-ex-hubby-lays-out-crime-past-in-murder-trial/
http://nypost.com/2014/08/01/mob-thugs-sentenced-for-slaying-of-brooklyn-father/
Community content is available under
CC-BY-SA
unless otherwise noted.