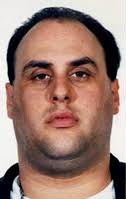 Ilario "Fat Larry" Sessa is a soldier in the Colombo Crime Family.
Colombo Family Round up
In January 2011 the FBI rounded up more than 100 gangsters throughout New York. This included a majority of the Colombo crime family's leadership and many of its members and associates. Among those arrested were Colombo street boss Andrew Russo, acting underboss Benjamin Castellazzo, and consigliere Richard Fusco. Ilario Sessa, who was an associate at the time, was also arrested.
On November 9, 2012 Sessa pleaded guilty to extortion and assault with a deadly weapon. He faces a maximum sentence of twenty years' imprisonment.
He is being held at the Metropolitan Detention Center in Brooklyn.
Induction into the family
In July 2011, an induction ceremony to induct Sessa along with several other Colombo associates was aborted due to the FBI's infiltration into their family and based on information provided by mob rat Anthony "Big Anthony" Russo.
According to mob rat Reynold Maragni, on January 21, 2012 Sessa was inducted into the family by Andrew Russo (Colombo acting boss at the time) while in prison. The ceremony was held in Russo's cell with several other members of the Colombo Family present. According to the FBI, the induction ceremony was caught on film by prison surveillance cameras, but the footage was accidently deleted by a prison official.

References
http://www.justice.gov/usao/nye/pr/2012/2012nov09c.html
http://www.nydailynews.com/new-york/mob-video-rubout-feds-film-ilario-fat-larry-sessa-made-man-jailhouse-erased-bungle-article-1.1166219