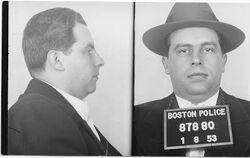 Ilario "Larry Baione" Maria Antonio Zannino (June 15, 1920 – February 27, 1996) was the muscle and chief gambling lieutenant of Raymond Patriarca and the Patriarca crime family. Zannino was said to be the second-highest-ranking figure in the Boston faction of the Patriarca crime family.
Biography
Ilario( Larry ) Zannino and Isabella LaGranda lived at 48 Blodgett ave Swampscott, Massachusetts. He stood at 5'7 and weighed 160 pounds with brown eyes and dark brown hair. He is the husband of Isabella Tawa. He was one of the richest mobsters in the New England mob. The Boston Globe stated that that Zannino had a wallet that looks like the inside of the New England Merchants Bank vault and a bookmaking and loansharking operation more successful than most American car companies. He was often found bouncing with Stephen Flemmi. He lived for a time in Franklin, MA and graduated from Franklin High School in 1938. In his high school yearbook at graduation he stated intentions to attend medical school. His classmates called him "Zip" which later become ironically the same nickname of FBI Special Agent John Connolly who would later successfully prosecute him for his criminal activities. He was classmates with a future elementary school principal named Larry who were in the "Let's Go" youth gang together. His rap sheet dated back to 1941 and included arrests for armed robbery, assault and battery, bookmaking and murder.
In 1954, Illario attended his old friend Larry's wedding, pressed a $100 bill in his hand and said, "Buy yourself a necktie kid."
In 1985, FBI agents acquired details on the interiors of two Mafia controlled apartments in the Boston's North End. With court approval, agents picked the locks early in the morning and planted bugs that produced 800 hours of recordings. Ilario Zannino was heard explaining how dangerous it is to kill just one member of the Winter Hill Gang. "If you're clipping people," he said, "I always say, make sure you clip the people around him first. Get them together, 'cause everybody's got a friend. He could be the dirtiest motherfucker in the world, but someone that likes this guy, that's the guy that sneaks you." Zannino and Patriarca crime family soldier, John Cincotti were complaining to each other about the problems that they were having with the Irish American gang. Cincotti said: "They don't have the scruples that we have." Zannino agreed. "You know how I knew they weren't Italiano? When they bombed the fucking house. We don't do that."
Imprisonment
Sent to prison for loansharking and illegal gambling, Ilario Zannino died on February 27, 1996, of natural causes at the Medical Center for Federal Prisoners in Springfield, Missouri.