Jake "Greasy Thumb" Guzik (May 20, 1886 – February 21, 1956) was the financial and legal advisor, and later political "greaser", for the Chicago Outfit. Guzik was a close friend, confidant and trusted associate to Chicago Mafia boss Al Capone.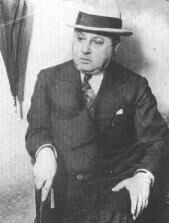 Biography
Early life
Born near Kraków, Poland (although other sources state Moscow, Russia) on May 20, 1886, Guzik immigrated to the United States in the early 1900s. His parents were immigrants from Katowice, Poland. He later became involved in prostitution, and allegedly white slavery, in the South Side of Chicago's Levee vice district with his brother Harry Guzik eventually driving rival Jack Zuta out of business. He later became a powerful political "fixer" operating from St. Hubert's Old English Grill and Chop House; Guzik received "bagmen" who delivered scheduled payoffs to various police precincts and city officials.
Chicago Outfit
In the early 1920s, Guzik, supposedly hearing a plan to murder Al Capone, informed him and later allied with the Chicago Outfit. On May 8, 1924 Capone personally killed rival gang member and hijacker Joe Howard in a saloon on South Wabash Avenue after he had assaulted Guzik and called him names. Guzik continued to act as a bagman for the Chicago Outfit until April 1930 when Guzik and Ralph "Bottles" Capone, brother of Al Capone, were convicted of tax evasion. Guzik himself, found to have earned over $1 million, was charged with paying only $225,000. In October Judge John H. Lyle issued arrest warrants for twenty-six gangsters, including Guzik, charging them with vagrancy. Guzik's defense claimed he was a horse player and, as proof he was an honest citizen, noted that he was living less than a block away from the state attorney. Guzik was later sentenced to five years imprisonment.
Later years
Upon his release Guzik assumed total control over the Chicago Outfit's finances for the next twenty years as a high ranking member of the Chicago Outfit, representing the Chicago crime syndicate in the The Commission, known as the "Big Six", until his death from a heart attack on February 21, 1956. Guzik was much admired and protected by Capone, partially because of his complete loyalty and fiscal honesty to Capone and his organization, and partially because of his quiet, businesslike and low profile way of taking care of gang affairs. While not known for certain, it is frequently cited that Guzik never carried a gun a day in his life. Guzik under the name of Jack Arnold fathered two daughters the oldest was named Johanna G. Arnold. She married Michael T. York and they had two sons Sheldon M. York and Charles R. York. Sheldon has two children and Charles has no children. Jack's youngest was named Wilamena Arnold she died at the age of six from cancer. His oldest daughter died in 1996 of cancer.