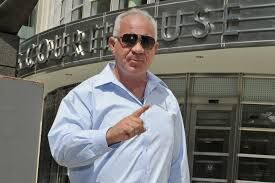 James Bernardone (born 1967) is an alleged soldier in the Genovese Crime Family.
2012 Indictment
In April 2012, Bernardone, Genovese capo Conrad Ianniello, soldier Salvester Zarzana, and several other associates were arrested and charged with racketeering conspiracy, extortion, illegal gambling, union embezzlement and obstruction of justice.
Bernardone was smacked with racketeering raps related to his shakedowns of contractors performing work throughout Manhattan, Brooklyn and Queens from 2006 to 2009 including the construction of a Hampton Inn on Ditmars Boulevard. He pleaded guilty to conspiring with mob associate, Paul Gasparrini, to extort $2-per-load of soil removed from the construction sites.
Bernardone was the former secretary treasurer of Local 24 of the International Union of Journeymen and Allied Trades. He was forced to resign from his union position after he was caught taking kickbacks from construction sites in Queens and Brooklyn for the Genovese family.
In August 6, 2014 Bernardone was sentenced to 27 months in prison for mob kickbacks relating to the construction industry.
References
http://www.nydailynews.com/new-york/nyc-crime/reputed-mobsters-years-union-kickbacks-article-1.1893713
http://nypost.com/2013/11/27/mobsters-plead-guilty-to-racketeering-extortion/
Community content is available under
CC-BY-SA
unless otherwise noted.