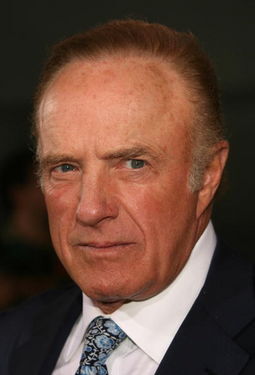 James Edmund Caan (born March 26, 1940) is an American Academy Award-, Emmy- and Golden Globe-nominated American film, stage and television actor. He is best-known for his Academy Award nominated role of Santino "Sonny" Corleone in 1972's The Godfather film, as well as his on-screen portrayal late NFL running back Brian Piccolo, best friend of NFL Pro Football Hall of fame running back Gayle Sayers in the critically acclaimed, Emmy Award winning 1971 ABC-TV film Brian's Song, where he appeared opposite Billy Dee Williams. Other roles of note are as Paul Sheldon in the Academy Award 1990 black comedy apdaptation of author Stephen King's best-selling novel Misery, as athlete Jonathan E in the 1975 blockbuster science-fiction/action/drama film Rollerball and for his role as "Big Ed" Deline in the 2003-08 NBC television series Las Vegas.
Early life
Caan was born in The Bronx, New York City, the son of Sophie (née Falkenstein) and Arthur Caan, Jewish immigrants from Germany. His father was a meat dealer and butcher.[1][2] Caan had a sister, Barbara, and has a brother, Ronald.[3][4] He grew up in Sunnyside, Queens, New York City.[5] He was educated at P.S. 150 40-01 43rd Avenue School in Queens, at the private Rhodes Preparatory School, also in New York City, and then attended Michigan State University. He later transferred to Hofstra University in Hempstead, New York, but did not graduate. While studying at Hofstra University, however, he became intrigued by acting and was interviewed for, accepted to, and graduated from, New York City's Neighborhood Playhouse School of the Theatre. There, one of his instructors was Sanford Meisner.
Personal life
Caan has been married four times. In 1960 he married Dee Jay Mathis; they divorced in 1966. They had a daughter, Tara A. Caan, born on November 5, 1964. Caan's second marriage to Sheila Ryan (a former girlfriend of Elvis Presley, in 1976 was short-lived; they divorced the following year. Their son, Scott Caan, who also is an actor, was born August 23, 1976.
Caan was married to Ingrid Hajek from September 1990 to March 1995; they had a son, Alexander James Caan, born on April 10, 1991. He married the widow of alleged murdered Aspen Drug kingpin Steven Grabow,[6] Linda Stokes in October 1996; they have two sons, James Arthur Caan (born November 6, 1995) and Jacob Nicholas Caan (born September 24, 1998). Caan filed for divorce on November 20, 2009, citing irreconcilable differences.
Filmography
Template:See also
Film
Year
Title
Role
Notes
1963

Irma la Douce

Soldier with Radio
Uncredited

Template:Citation needed

1964

Lady in a Cage

Randall Simpson O'Connell
1965

The Glory Guys

Pvt. Anthony Dugan
Nominated—

Golden Globe Award for New Star of the Year – Actor

1965

Red Line 7000

Mike Marsh
1967

El Dorado

Alan Bourdillion "Mississippi" Traherne
1967

Countdown

Lee Stegler
1967

Games

Paul Montgomery
1968

Submarine X-1

Cmdr. Richard Bolton
1968

Journey to Shiloh

Buck Burnett
1969

The Rain People

Jimmy Kilgannon
1970

Brian's Song

Brian Piccolo

Television film
Nominated—

Emmy Award for Outstanding Lead Actor – Miniseries or a Movie

1970

Rabbit, Run

Rabbit Angstrom

1972

T.R. Baskin

Larry Moore
1972
The Godfather
Santino "Sonny" Corleone
Nominated—

Academy Award for Best Supporting Actor


Nominated—

Golden Globe Award for Best Supporting Actor – Motion Picture

1973

Slither

Dick Kanipsia
1973

Cinderella Liberty

John Baggs Jr.
1974

The Gambler

Axel Freed
Nominated—

Golden Globe Award for Best Actor – Motion Picture Drama

1974

Freebie and the Bean

Freebie
1974
The Godfather Part II
Santino "Sonny" Corleone
Uncredited cameo
1974

Gone with the West

Jebediah Kelsey
1975

Funny Lady

Billy Rose
Nominated—

Golden Globe Award for Best Actor – Motion Picture Musical or Comedy

1975

Rollerball

Jonathan E.

Saturn Award for Best Actor


(tied with

Don Johnson

for

A Boy and His Dog

)
1975

The Killer Elite

Mike Locken
1976

Silent Movie

Himself
1976

Harry and Walter Go to New York

Harry Dighby
1977

A Bridge Too Far

Sgt. Eddie Dohun
1977

Another Man, Another Chance

David Williams
1978

Comes a Horseman

Frank "Buck" Athearn
1979

1941

Sailor in Fight
Uncredited

Template:Citation needed

1979

Chapter Two

George Schneider
1980

Hide in Plain Sight

Thomas Hacklin
Also director
1981

Thief

Frank
1981

Time Bandits

Danny Foley
1982

Kiss Me Goodbye

Jolly Villano
1984

Les Uns et les Autres

Jack Glenn / Jason Glenn
1987

Gardens of Stone

SFC Clell Hazard
1988

Alien Nation

Det. Sgt. Matthew Sykes
1990

Dick Tracy

Spud Spaldoni
1990

Misery

Paul Sheldon
Nominated—

Saturn Award for Best Actor

1991

The Dark Backward

Doctor Scurvy
1991

For the Boys

Eddie Sparks
1992

Honeymoon in Vegas

Tommy Korman
1993
The Program
Coach Sam Winters
1993

Flesh and Bone

Roy Sweeney
1995

Template:Sort

Jim
1995

Things to Do in Denver When You're Dead

Boyle
1996

North Star

Sean McLennon
1996

Bottle Rocket

Mr. Abe Henry
1996

Eraser

U.S. Marshal Robert Deguerin
1996

Bulletproof

Frank Colton
1997
Howard Hawks: American Artist
Himself
1998

Poodle Springs

Philip Marlowe
1999

This Is My Father

Kieran Johnson
1999
Mickey Blue Eyes
Frank Vitale
2000

The Yards

Frank Olchin
2000

Luckytown

Charlie Doyles
2000

The Way of the Gun

Joe Sarno
2001
Viva Las Nowhere
Roy Baker
2001

In the Shadows

Lance Huston
2001

Night at the Golden Eagle

Prison Warden
Uncredited

Template:Citation needed

2002

City of Ghosts

Marvin
2003

Dogville

The Big Man
2003

This Thing of Ours

Jimmy "The Con"
2003

Jericho Mansions

Leonard Grey
2003

Elf

Walter Hobbs
2005

Santa's Slay

Darren Mason
Uncredited

Template:Citation needed

2008

Wisegal

Salvatore Palmeri
2008

Get Smart

The President
2008

New York, I Love You

Mr. Riccoli
Segment: "Brett Ratner"
2009

Middle Men

Jerry Haggerty
2009

Mercy

Gerry Ryan
2009

Something, Something, Something, Darkside

Himself (voice)
2009

Cloudy with a Chance of Meatballs

Tim Lockwood (voice)
2009

Professor Layton and the Eternal Diva

Mike (voice)
English dub
2010

Henry's Crime

Max Saltzman
2010
Minkow
Paul Vinsant
2011

Detachment

Mr. Charles Seaboldt
2012

Small Apartments

Mr. Allspice
2012

That's My Boy

Father McNally
2013

Blood Ties

Leon Pierzynski
2013

Cloudy with a Chance of Meatballs 2

Tim Lockwood (voice)
2013

The Tale of the Princess Kaguya

The Bamboo Cutter (voice)
English dub
2014

The Outsider

Karl Schuster
2014

A Fighting Man

Brother Albright
2014

Preggoland

Walter Huxley
2015

The Throwaways

Lt. Col. Christopher Holden
2015

Sicilian Vampire

Professor Bernard Isaacs
2016

The Good Neighbor

Harold Grainey
2016

The Red Maple Leaf

George Lawrence Secord
2017

Undercover Grandpa

Grandpa
2018

Out of Blue

Col. Tom Rockwell
TBA

Welcome to Pine Grove!

Dan Simpson
Filming
Television
Year
Title
Role
Notes
1964

Combat!

German sergeant
Episode: "Anatomy of a Patrol"
1969

Get Smart

Rupert of Rathskeller (uncredited)
2 episodes "To Sire, with Love: Parts 1 and 2"
1996

NewsRadio

James Caan / Himself
Episode: "Movie Star"
2001
Warden of Red Rock
John Flinders
Television film
2001

A Glimpse of Hell

Capt.

Fred Moosally

Television film
2002

Blood Crime

Sheriff Morgan McKenna
Television film
2003–2008

Las Vegas

Ed Deline
88 episodes
2010

The Annoying Orange

Jalepeño (voice)
Web series
2012

Hawaii Five-0

Tony Archer
Episode: "Lekio"
2013

Magic City

Sy Berman
5 episodes
2013

Back in the Game

Terry "The Cannon" Gannon
13 episodes
2015

Wuthering High School

Mr. Earnshaw
Television film
2016

JL Ranch

Tap Peterson
Television film
References
↑ Stated on the Bravo Channel's Inside the Actors Studio, 2000
External links