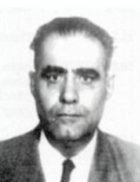 Vincenzo James Colletti (born October 3, 1897- died 1975) also known as "Black Jim", was the boss of the Denver crime family, also called the Smaldone crime family, based in Denver, Colorado.
Biography
Colletti was born in Lucca Sicula, Sicily, Italy in 1897. After arriving in the United States he had several arrests in the New York City and New Jersey area before moving west and settling in Pueblo, Colorado. In 1920, while still residing in New York he became a naturalized U.S. citizen. Around 1953, Colletti became the boss of the Denver mob after mafia boss Charlie Blanda was sent to prison and later retired from organized crime. In 1957, Colletti attended the ill fated Apalachin Conference in upstate New York and was one of the men that was arrested in the subsequent raid, outing him as a mobster. Up until the Apalachin fiasco, Colletti had only minor arrests such as for drunkenness, vagrancy and disorderly conduct.
At one time Colletti was mistakenly listed as a member of the New York Bonanno crime family, this confusion may have been due to his being involved in the ownership of the Colorado Cheese Company with Joseph "Bananas" Bonanno. He was also a liquor store and bar owner. He operated primarily in illegal gambling activities and narcotics trafficking. In a Life Magazine article in 1967 he was named as the boss of Colorado.
Colletti later retired and died of natural causes in 1975.