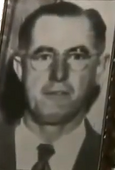 James "Head of the Elks" Lumia (Sept. 10, 1903 - June 5, 1950) was an early organized crime figure in Tampa, Florida and member of the Trafficante crime family.
Biography
Lumia was a businessman and influential member of the Tampa mob. He owned an oil refinery and a company at the Port of Tampa. Lumia was a major player in the Tampa mob and was considered the right hand man of Salvatore "Red" Italiano whom he succeeded as the underboss of the Tampa mob in 1948 when Italiano retired to Italy.
During the late 1940s, Santo Trafficante, Sr. was being watched closely by police and made Salvatore "Red" Italiano the acting boss. With the untimely Kefauver hearings and Charlie Wall testifying in 1950, both Trafficante and his son Santo Jr. fled to Cuba. After the hearings ended the Trafficantes returned to Tampa to find out that Italiano had just fled to Mexico leaving Jimmy Lumia the biggest mobster in the city.
Lumia was killed on June 5, 1950, when a black sedan pulled alongside his car as he was talking to some employees of his company. A gunman in the back seat pulled out a short barreled single shot 12 gauge and fired a load of buckshot into Lumia's head. He died soon thereafter. Lumia's funeral was attended by all the major gangland figures in Tampa as well as Mayor Nick Nuccio, who was considered to be a close friend of Lumia's.
His murder was ordered by Santo Sr. who allegedly found out that Lumia was bad mouthing him while he was in Cuba and to regain total control of his rackets.