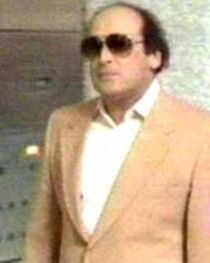 James J. "Little Jimmy" Marcello (born 1941) was a front boss for the Chicago Outfit criminal organization in the 1980s and early 1990s. Organized crime observers identified Marcello as a figurehead during that period while the organization's day-to-day operations actually were run by John "No Nose" DiFronzo, Joseph "Joey the Clown" Lombardo and Joseph "Joe the Builder" Andriacchi. Marcello is the brother of Michael Marcello, a cousin of Chicago Outfit mobster Robert Urbinatti, an uncle of mobster John Galioto and a brother-in-law to Salvatore Galioto.

On December 15, 1992, federal authorities charged Marcello and reputed mob boss Sam "Wings" Carlisi with racketeering. Marcello was reputed to be the underboss for Carlisi, whose street crew worked its rackets in Chicago's western suburbs. On December 16, 1993, Marcello, Carlisi and five other crew members were convicted on racketeering charges. On April 5, 1995, Marcello was sentenced to 12½ years in prison. During his sentencing, he told U.S. District Judge Paul Plunkett, "If my name wasn't James Marcello, I wouldn't be standing in front of you. That's all I have to say," according to an April 6, 1995, Chicago Tribune article. In November 2003, Marcello was released from a federal prison camp in Milan, Michigan and returned to his home in Lombard, Illinois. [edit]Family Secrets Trial
In April 2005, Marcello and his younger brother, Michael "Mickey" Marcello, were indicted on murder and racketeering charges. James Marcello was accused of murdering Nicholas D'Andrea, in 1981, attempting to kill Nicholas Sarillo, Sr. in 1982, and murdering brothers Anthony "Tony the Ant" Spilotro and Michael Spilotro in 1986. Until his indictment, James Marcello also was identified as running the Cicero, Illinois, crew faction of the Outfit with his brother Michael. On June 21, 2007, the so-called "Family Secrets" trial opened in Chicago. Although several other high-profile defendants, including Frank Calabrese, Sr., and Joseph Lombardo, took the highly unusual step of testifying in their own defense, Marcello opted not to take the stand in his own defense. On September 10, 2007, Marcello was convicted of racketeering. After the verdict, according to news accounts, Marcello winked at his family members, including his son, James Marcello, Jr., and kissed his attorney, Marc Martin, on the cheek. On September 27, 2007, the same jury convicted Marcello of the murders of the Spilotros, but acquitted him in the D'Andrea murder. Marcello faces from 15 years to life on the racketeering charges and up to life in prison for the murders. While awaiting an anticipated 2008 sentencing date, Marcello is being held at the Metropolitan Correctional Center in Chicago.