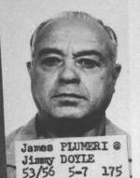 James Dominick "Jimmy Doyle" Plumeri (born April 14, 1903- died September 17, 1971) Plumeri was a powerful capo of the Lucchese crime family involved primarily in Labor Racketeering.
Biography
Plumeri became a member of the crime family of Gaetano Reina in the 1920s and was first arrested in 1923 on various charges. In the 1940s, he was promoted to the rank of capo. Plumeri was an associate of Louis Buchalter and Lepke's partner Jacob Shapiro, who were affectionately known as "The Gorilla Boys" and the uncle of notorious gangster Johnny Dio. Doyle and Dio started a garment workers trucking association, whereby the truckers working in the Garment Center were forced to join the trucker's union headed by them and of course, the "union dues" never made it into the union's coffers (it went straight into Dio and Doyle's pockets instead), and phony books were established to satisfy whomever decided to inquire about the trucker's union's financial solvency.
Plumeri had interests in the Seam Binding Co., Ell Gee Carriers Corp., and in dress factories in both New York and Allentown, Pennsylvania where he was associated with crime boss Russell Bufalino and Dominick Alaimo. For several years in the 1930s, Doyle and Dio had a sweet deal going for themselves in the Garment Center. Besides extorting the truckers, the dynamic duo profited from the Garment Center's clothing manufacturers to employ only union truckers. Then they used the clout of their trucker's union to bulldoze the clothing manufacturers into paying hefty off-the-books fees in order to keep their business up-and-running, and profitable. If the clothing manufacturers refused to pay the extortion fees, Dio and Doyle would order their union truckers to go on strike, putting a dead stop to the clothing manufacturer's cash flow. In 1932 and 1933, Dio and Plumeri were indicted twice for extortion, but they beat the rap both times, because their victims refused to talk to the Feds. In 1937 however, Doyle and Dio pled guilty to extortion charges and were sentenced to 3-5 years in Sing Sing.
Move to Florida
In the 1950s, Plumeri was assigned to Miami, Florida by family boss Thomas Lucchese, and resided in Surfside, where he was involved in illegal gambling and often visited Havana, Cuba. In Florida he was allegedly contacted by the FBi and asked for his help in invading Cuba after the ouster of Fulgencio Batista by the Communist Fidel Castro.
In 1971, Plumeri was found murdered on a Queens street, an autopsy revealed he had been strangled to death. He was 68 years old.
Community content is available under
CC-BY-SA
unless otherwise noted.