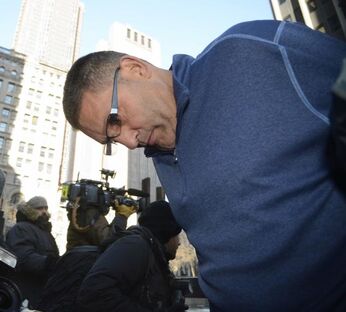 Jerome "Jerry" Asaro (Born 1958) is a capo in the Bonanno Crime Family. He is the son of alleged Lufthansa heist mastermind Vincent Asaro.
Criminal Career
Jerome was pushed by his father to become a member of the Bonannos. Over the years he participated with his father in various crimes including arson, an attempted robbery of an armored car, a $1.25 million FedEx robbery and conspiracy to cover up a murder.
In 2010, Asaro was sentenced to 30 months in prison for various mob rackets based on information provided by former Bonanno underboss turned informant Salvatore Vitale.
2014 Arrest
On January 23, 2014 Asaro, his father, and several other members of the Bonanno Crime Family were arrested on various charges of racketeering, extortion, robbery, solicitation to murder and other crimes dating back to the 60's. Jerome and his father pleaded not guilty.
Both Asaros were also charged in the 1984 robbery of $1.25 million worth of gold salts from a Federal Express employee.
In October 10, 2014, Asaro pleaded guilty in Brooklyn federal court Friday to digging up a body of mafia victim Paul Katz that had been buried years earlier by his father. He will likely face up to 8 years in prison for his role in a variety of mob mayhem including arson and the grisly exhumation of Katz's body in the early 80's.
Prison Sentence
On March 26, 2015 Asaro was sentenced to 7½ years in prison for racketeering, which included accessory to murder (the murder of mob associate Paul Katz). Katz, a low-level mob associate, was suspected of being an informant by Jimmy Burke and was allegedly strangled with a dog chain by Bonanno gangster (and Jerome's father) Vincent Asaro. Katz's corpse was buried under the basement floor of a Queens house owned by Burke and left to rot there until the 1980s when Jerome exhumed the decomposed remains and moved them to an unknown location.He's sentence in FCI Schuylkill.Register Number is 04641-748.Release Date is 8/6/2020.
References
http://nypost.com/2014/10/10/mobsters-son-pleads-guilty-to-digging-up-mafia-victims-body/
http://www.nydailynews.com/new-york/nyc-crime/feds-charge-mobster-1978-lufthansa-heist-kennedy-airport-article-1.1588523
http://m.nydailynews.com/new-york/nyc-crime/woman-brings-dad-cremated-remains-sentencing-mobster-article-1.2163846
https://www.bop.gov/mobile/find_inmate/byname.jsp#inmate_results