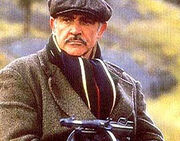 James Erle "Jimmy" Malone (1862–1930) was a fictional Irish cop in the blockbuster Academy Award-winning 1987 movie The Untouchables. He is played by Sean Connery. The Malone character, who was inspired by a real life Philadelphia, PA Police Commissioner Marty Lahart, was, in the film, one of the four agents known as "The Untouchables", (which included Eliot Ness, which was played by Kevin Costner) which worked together in fighting organized crime and outlaws such as John Dillinger in Chicago as well as much of that immediate Midwest region.
Early life
James Malone was of Irish American heritage. He had a brother who was a guard at eastern state penitentiary in Philadelphia, PA.
In the force
Malone was the Philadelphia police commissioner. He brought al Capone in on tax evasion charges, by apprehending him at the theatre One evening.
The Untouchables
Malone had been employed on the force for nearly 40 years before he met Eliot Ness (who was portrayed in the film by Kevin Costner); the two then recurited a number of decorated cops in the attempt to bust Al Capone.
Death
the film did not depict the actual death of Marty LaHart correctly. This was not how he died.
Community content is available under
CC-BY-SA
unless otherwise noted.