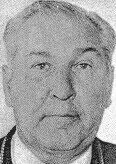 Joseph Arnold (died 2002) Also known as "Big Joe", was an associate and high ranking mobster in the Chicago Outfit.
Arnold was a longtime associate of the Chicago Outfit, he owned a shirt company and operated as a loanshark and vice boss for the Outfit. He was one of many high ranking members of the Outfit who were not of Italian descent; other prominent non Italian members around this time were: "Tokyo Joe" Ken Eto, Gus Alex, Murray Humphreys and others.
During the 1960's, Arnold and Outfit capo "Caesar" Joseph DiVarco were partners in a local haberdashery.
Arnold was a lowkey and smooth operator for the mob, but was also very feared. He was a tall man with a large build capable of intimidating those who owed him loan shark debts or that crossed him.
In the 1980's Arnold and a fellow Outfit loan shark, Joseph Grieco, were convicted of buying the silence of a grand jury witness called to testify on the mob's loan shark racket. During the trial Ken Eto testified against Arnold, who was one of the mob chieftains that allegedly ordered Eto's assassination in 1983.
Arnold and Grieco were found guilty of obstruction of justice and conspiracy for manipulating the grand jury witness, Ralph Carazzo, not to testify before the grand jury.
In 2002 Arnold died of natural causes.
Community content is available under
CC-BY-SA
unless otherwise noted.