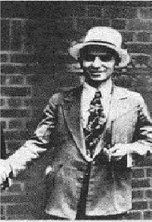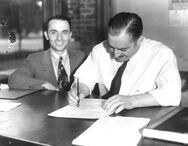 Joe "Little Caesar" Roma (died February 18, 1933) was an early Denver, Colorado mafioso and founder of the Denver crime family.
Biography
Giuseppe Roma was a diminutive mobster in the Denver area known as "Little Caesar". Roma controlled bootlegging in North Denver. His grocery store was a legitimate front for his bootlegging activities. Roma worked with brothers Pete & Sam Carlino who controlled bootlegging South of Denver. By the early 1930s, the brothers felt they were strong enough to expand their bootlegging empire and take control of the Denver area. Joe Roma, the boss of the city, agreed to a sit down with the brothers in an effort to head off a gang war. On January 24, 1931, Roma sponsored a meeting of 30 of Colorado's top bootleggers. The police department was informed of the meeting, which was being held in the city's Italian district, and sent a raiding party. Unfortunately the meeting was interrupted before a compromise was agreed upon, and the police, unwittingly, ignited a gang war.
On March 17, 1931 Pete Carlino's home on Federal Blvd. in Denver exploded. Federal undercover agent Lawrence Baldesareli who had infiltrated the Carlino gang alerted police that Carlino had 3 of his underlings set the blast. On May 8, 1931 Sam Carlino was murdered in his home by Bruno Mauro. Pete Carlino went into hiding. Joe Petralia, Chris Murkuri, and Dan Colletti were found guilty of arson for the blast at Carlino's home. On June 19, 1931 Pete Carlino was arrested near Pueblo. Roma posted a $5,000 bail for his friend on June 23, 1931 after Carlino had been arrested on a charge of conspiracy to commit arson. Roma put his home up as collateral for the bond. On September 13th Pete Carlino's body was found near the Siloam Rd. Bridge between Pueblo and Wetmore. He had been shot twice in the back and once in the head.
After this, Roma gained control over the city of Pueblo. Roma's reign as boss was short-lived. Less than two years after Pete Carlino was killed, Roma was ambushed in his own home. He was there talking with some unidentified suspects. Joe Roma's wife Netti told Police that Louis Brindisi, James Spinelli, and Eugene Smaldone were with her husband when she left to go make sauce with her Mother a few blocks away. When she returned she found her husband shot 7 times. Initially the police thought he was shot 14 times but they realized the 7 shots went through his body. The Smaldone brothers were suspects in Roma's murder. When questioned by the Police they quickly produced movie stubs and stated they were at the Movie theater and had nothing to do with the murder. The Smaldone family remained in power in Denver's underworld until 1993.
Community content is available under
CC-BY-SA
unless otherwise noted.