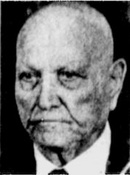 Giovanni "John" Alioto (August 25, 1888- August, 1972) was the boss of the Milwaukee crime family and father-in-law of Frank Balistrieri.
Biography
Alioto was born in Porticello di S. Flavia, Sicily in 1888 to Giuseppe Alioto and Francesca Orlando. He came in on the ship Liguria through the port at New York on March 20, 1904 at age 15. He would become naturalized citizen in Milwaukee on September 13, 1926 and marry Catherine Alioto (born either July 24, 1891 or November 11, 1892 in Sant Elia, Sicily) at Our Lady of Pompeii Church on July 20, 1913. Together they would have several children, including Angelo Alioto and Antonina — who would marry future crime boss Frank Balistrieri. His son Angelo would later become a member of the Milwaukee LCN family while John's distant cousin, Joseph Alioto, would go on to become a successful Lawyer and Mayor of San Francisco. Alioto once worked for the city as a foreman of garbage collection and also as a railroad or coal yard worker before becoming a prominent member of the Milwaukee crime family under founding boss Vito Guardalabene regime.
Alioto's distant cousin, Mariano "Mario" Alioto was reportedly gunned down in 1917 by the Black Hand (also known as the LaFata gang, the forerunner of the Mafia) on Columbus Avenue in San Francisco while trying to fight the extortion racket.
In 1952, Salvatore Ferrara was deposed and voted out by his family as boss and members of the Chicago Outfit forced him to step down. Alioto was then chosen to fill the position held by the ousted Ferrara. He would serve from late 1952 until 1961. The FBI was aware of Alioto's leadership as early as December 6, 1952, knowing that Ferrara had stepped down. They also believed that Milwaukee mafioso Frank La Galbo was now "head of the younger section" of Mafia crew. During Alioto's reign as boss the Milwaukee rackets grew at a fierce pace. Most notably was the growing relationship with organized labor. Law enforcement material suggests that he was merely grooming his son-in-law and prominent gangster Frank Balistrieri to take over as head of the crime family. Of all the years Alioto lived in Milwaukee, he was only ever confronted by police once: on July 2, 1957. He was given a mere $5 citation for failing to yield the right-of-way to a vehicle while he was leaving a parking spot. Constant surveillance from the FBI amounted to nothing. Alioto was also associated with Rockford crime family boss Antonio Musso.
On December 27, 1961 Alioto attended a civic testimony honoring Dr. Vito Guardalabene. The social event honoring the grandson of the Milwaukee family founder Vito Guardalabene would also serve as the official induction of Balistrieri as the new boss of the Milwaukee crime family.
Alioto reportedly died of natural causes in 1972.