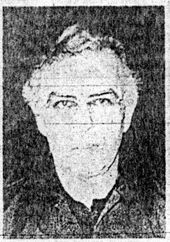 John Joseph Carbone (born 1919- died August 18, 1998) also known as "Handsome Johnny", was a notorious gangster and crime ring kingpin who operated primarily in Tacoma and Seattle, Washington.
Biography
Carbone was known as the boss of a racketeering conspiracy that involved extortion, attempted murder, assault and arson as part of a scheme to control Pierce County's tavern and cabaret business which brought about a scandal in the 1970s that led to the downfall of the Pierce County sheriff George V. Janovich, and reform of the county government. Carbone and five others were charged, including then-Sheriff Janovich. Among other things, Janovich was accused of accepting $1,300 in bribes from an undercover FBI agent posing as a prospective tavern buyer, and tipping off Carbone's operation to impending gambling raids. Besides arson and murder threats, the gang performed insurance fraud and ran shakedown and protection scams, prostitution and gambling. Carbone also ran a lucrative bail-bond business along with his chief lieutenant Ronald "Ron" John Williams. He also owned a used car dealership - operated unchecked in the 1960s & 1970s.
One tavern owner and victim of the Carbone gang said of the them; "One of the US attorneys called them the gang that couldn't shoot straight. I never saw it in that light. The 'gang' didn't bungle the fire (at his tavern). They destroyed the place."
In the 1970s, Carbone and a handful his subordinates were convicted of running rackets and starting a tavern war, burning even their own properties to create a smokescreen and to collect insurance money, blaming some of the fires on his rivals, the Colacurcio crime family of Seattle, led by Frank Colacurcio.
Carbone was sentenced to 100 years in prison and $163,000 in fines. He served 15 years in federal prisons. At the time of his conviction he was a stubby, gray-haired man in his fifties, Carbone was wealthy and flamboyant. He was awaiting the completion of his $400,000 65-foot yacht when he was convicted of federal racketeering, spoiling everything.
When Carbone died he got a nice send-off in a Tacoma newspaper obituary in which people recalled what a nutty guy he was and how colorful his 1970s gang of crooked shooters was.