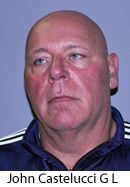 John "Big John" Castellucci (born June 18, 1959), (sometimes spelled "Castelucci"), also known as "John Castelle", is a capo in the Lucchese crime family in charge of the "Bensonhurst crew." Castellucci has two brothers, Eugene Castelle, a member of the Bensonhurst crew, and Anthony Castelle, the owner of "Coney Island Container", a private carting company that came under investigation for a suspicious fire in 2009.
On November 12, 2000, Castellucci was indicted along with acting underboss Eugene Castelle, capo Joseph Tangorra, soldiers Joseph Truncale and Scott Gervasi and associates Lester Ellis and Robert Greenberg on drug trafficking, extortion and loansharking charges. Castellucci was released from prison on October 20, 2004.
In 2010, Castellucci was under investigation of the Independent Review Board of the International Brotherhood of Teamsters for his connection with the Lucchese family. Castellucci become a Local 282 member in April 2006 and was subsequently permanently barred from holding any position within the IBT. During the investigation it was reported that Castellucci worked for Andrews Trucking Corporation - a company controlled by alleged Gambino family associate Joseph Spinnato. The investigation also reported that Local 295 principal officer Anthony Calagna and Local 295 steward Patrick Dellorusso (the family's current acting underboss), were both members of the Lucchese family, while Local 813 and 1034 member Bernard Adelstein, Local 522 member John Ferrara and Local 560 member Onofrio Mezzina were found to be associates. Castellucci was observed during the investigation on March 9, 2010, at a social club at 3205 Westchester Avenue in the Bronx for a "walk and talk" with Steven Crea, who the FBI identified as the head of the Lucchese family.
In 2013, a secret initiation ceremony for John Pennisi was conducted in a Staten Island home by acting boss Matthew Madonna and Castellucci. In May 2014, the FBI observed a sit-down on Long Island between Castellucci, a member of his crew John Cerrella, Long Island capo Carmine Avellino and a member in Avellino's crew (soldier Michael DeSantis) over a illegal criminal activity between DeSantis, Cerrella and Castellucci.
On May 31, 2017, John Castellucci along with Street Boss Matthew Madonna, Underboss Steven Crea Sr., Consigliere Joseph DiNapoli and other members of the family were indicted and charged with racketeering, murder, narcotics (cocaine, heroin, marijuana, prescribed medication), and firearms offenses. In January 2019, Castellucci and Joseph DiNapoli pleaded guilty.
In May 2019, government informant John Pennisi testified that Castellucci's Brooklyn crew (formerly Amuso-Casso's old crew) is now based in the Tottenville section of Staten Island. Castellucci is currently imprisoned with a projected release date of April 4, 2022.
In May 2020, a judge issued an interim ruling on an application for compassionate release by John Castelucci. On May 30, she denied the motion for release but urged or recommended a short furlough. Castellucci had suggested that he met the conditions for release because he has medical conditions that put him at increased risk should he be stricken with COVID-19. The Government did not dispute that he suffers from diabetes and other conditions that put him at increased risk, and that his medical condition amounts to an extraordinary and compelling reason for release. The judge noted, however, that while there were apparently 22 COVID-19 cases among inmates at FCI Fort Dix (and none among staff), those cases were all in the camp, whereas Castellucci was housed in the adjoining prison.
Despite acknowledging that Castellucci had shown extraordinary and compelling reasons for release, she stated that Castellucci had only served 9 months of a 37-month sentence and would ordinarily not be eligible for halfway house or home confinement until March 2022. During her decision she also noted that Castellucci was in the RDAP program and may, if he completes it, receive a 12-month sentence reduction. His release date to halfway house or home confinement would then presumably be somewhere around March 2021.
Castellucci's counsel suggested that the Court may have taken the possibility of an RDAP reduction into account at the time of sentencing. The judge, however stated that she had not because Castellucci's Presentence Report ("PSR") gave no hint that he had a substance abuse problem. And because he had tested negative while on pretrial release she couldn't imagine why he was admitted to RDAP if the PSR's description of his substance use - which is based on information from him and to which he lodged no objection - is accurate. She stated that, if it was indeed accurate, then Cast
ellucci's admission to RDAP suggested that someone at the Bureau of Prisons ("BOP") was fooled or compromised or monumentally careless, and that his RDAP bed should have gone to someone with a genuine substance abuse problem. She further added that if what was said in the PSR was false, and Castellucci has a genuine substance abuse problem, it would seem like a bad idea to spring him from RDAP when he is mid-way through the program.
The judge then went on to state that Castellucci is a longtime mobster who rose to the position of captain, a leadership role, in a murderous organization. He capitalized on and enriched himself through the violence and fear inflicted by that organization, and his position allows him to direct the activities of others. Evidence at his co-defendants' trial showed that he assigned others to administer a "hospital beating" to someone who had crossed the underboss. Prior significant sentences had done nothing to deter him. And the racketeering case was his eighth conviction (and fifth felony), his third federal conviction, and his second under the racketeering statute. Therefore it would seriously undermine several of the 3553(a) factors to release him and doing so would not give sufficient weight to either the seriousness of the offense or Defendant's lengthy criminal history; it would undermine respect for the law; it would not amount to just punishment; it would introduce unwarranted sentencing disparities; and it would not sufficiently address the need to protect the public from further crimes perpetrated by Castellucci. She did however recommend that the BOP give consideration to temporary release, under proper conditions, after which he would complete his sentence -- if doing so would not disrupt a genuine need for substance abuse treatment. His efforts to secure his release are ongoing.