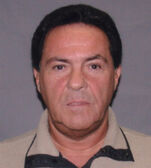 John "Sideburns" Cerrella (born c. 1941) is a New York soldier and former acting capo of the Lucchese crime family.
During the 1970s, Cerrella was a soldier in the Genovese family operating in Broward County, Florida. Cerrella worked with soldier Vincent Romano in South Florida before becoming made man in the Lucchese crime family.
In 1977, Cerrella was sentenced to 16 years for extorting a valet businesses in Fort Lauderdale and was released in 1983. In 1998, Cerrella was indicted along with Vincent Romano and others on illegal gambling charges. In 2002, Cerrella was indicted along with consigliere Joseph Caridi, soldier Vincent Salanardi and others. The group was charged with extorting the Hudson & McCoy Fish House restaurant in Freeport, Long Island. On November 27, 2009, Cerrella was released from prison.
In 2011, the FBI discovered a list of contacts that included Cerrella, Vincent Basciano and others in Bonanno family soldier Mike Virtuoso's butcher shop on Graham Avenue in Williamsburg, Brooklyn.
His father Joseph Michael Cerrella died on November 8, 2012 at the age of 98. At the time, he was residing in Dania Beach, Florida.
On February 26, 2019, during the Racketeering trial of Bonanno crime family mobsters John Zancocchio and Joseph Cammarano Jr., Cerrella's name was brought up by government informant Peter Lovaglio in relation to a $200,000 loan. Indicating that he is still an active member of the mob.