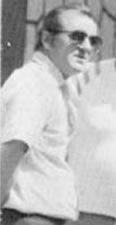 John Paul Cersani, also known as "Boobie" (1938 -December 14, 2006), was an Italian-American mobster with the New York Bonanno crime family who became a street soldier and close confidante of caporegime Dominick Napolitano.
Cersani was born in Knickerbocker Village, a public housing project on the Lower East Side, Manhattan. As a young man, John was a legendary figure in his neighborhood. He would leap from the high-rise apartment complex building fire escapes and dive into the East River. John was not a womanizer and was married faithfully for over twenty years to his wife Nancy, with whom he fathered several children. He also was a grandfather of six. John was taller and lean, balding at the temples and had a hawk-like face.He had an introverted personality, usually keeping to himself and demonstrated a higher intellect. Although Cersani was skinny and lean, he was extremely strong. On May 5, 1981 after the murder of rival Bonanno capos Alphonse Indelicato, Phillip Giaccone and Dominick Trinchera, Cersani lifted Trinchera's 300 pound corpse without any help. Cersani became the "right hand man" of powerful Bonanno capo Napolitano, with responsibilities as bodyguard, appointment secretary, chauffeur, and confidante. He was also a friend of Bonanno sidewalk soldiers Benjamin Ruggiero and Bonanno associate and undercover Federal Bureau of Investigation (FBI) agent Joseph Pistone.
After the release of the 1997 film Donnie Brasco, which was based on the undercover exploits of Pistone, Cersani sued Sony and TriStar Pictures for libel. Cersani cited his 1982 acquittal on racketeering charges as evidence which were solely brought on by the Donnie Brasco investigation. The Judge argued that the acquittal did not mean innocence, but merely a failure to prove Cersani's criminal career. Cersani had been convicted previously of drug trafficking, racketeering, loansharking, stock fraud and to commit bank robbery in the years from 1985 to 1994. The judge ruled that Cersani was "libel proof" and he lost the case. On December 14, 2006, after a six year battle with cancer, Cersani died in his Knickerbocker Village apartment.
Community content is available under
CC-BY-SA
unless otherwise noted.