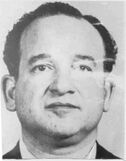 Giovanni DeMarco (1913-1972) was a longtime consiglere of the Cleveland crime family under powerful Mafia boss John Scalish.
Biography
DeMarco was a native of Licata, Sicily and would lead a gang known as the "Licatese faction" in Cleveland, Ohio. This faction was successfully merged with the Mayfield Road Mob under then boss Frank Milano and the combination resulted in the Cleveland LCN Family. DeMarco would go on to serve in various administration roles at various times in the Cleveland mafia. Many consider Anthony Milano as one of the original consigliere of the Cleveland LCN Family. It is true that Milano, a high ranking and elder member did serve as counselor to the crime family. He would also serve as underboss for John Scalish after the death of long time member Frank Brancato. In either role Milano was seen as an interim or retired member. His roles was held more out of respect than actual functioning. What is known about the role of consigliere within the Cleveland LCN Family, is that John DeMarco is believed to have served as consigliere from 1944 until his death 1972 and was considered to be highly respected. DeMarco was a cousin of original boss Joseph Lonardo and allegedly participated in the murder of Giuseppe "Dr. Joe" Romano along with Angelo Lonardo in the 1930s in what was believed to be a revenge killing.
DeMarco died on October 25, 1972 of natural causes.