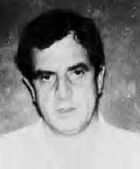 John DiMattia (born 1936) is an alleged bookie and soldier in the Los Angeles crime family since the 1980s.
Biography
DiMattia was born and raised in New Jersey where he first became involved in the Rackets as a runner for Legendary Lucchese crime family capo "Tumac" Anthony Accetturo. DiMattia became a member of the L.A. family in the 1980s and was partners with "The Animal" Anthony Fiato in a bookie ring in which one of they're customers was Murray "the K" Kaufman, a famous and influential rock & roll impresario and disc jockey of the 1950s, 60s and 70s. During the early days of Beatle mania, he frequently referred to himself as "the Fifth Beatle", and loved to gamble on sports. He once allegedly lost over $30,000 betting on football to DiMattia and according to Fiato, they allegedly had to go over to Kaufman's home and "slap" him around to get him to pay up and also allegedly set him up to be robbed by some of their criminal associates.
When DiMattia was asked to prove his mob mettle on a hit, he allegedly faked a heart attack to get out of it. He used a bad back too, leading one mafia insider to state "His back went out more than he did... to get out of doing any tough guy work, this bum came up with more excuses than 'alibi Ike'".
In October, 1984, DiMattia along with Peter Milano, Rocco Zangari, Carmen Milano, Luigi Gelfuso, Chris Petti, Samuel Traub, Joseph Iacullo, Joseph Basi, Patee Tucker, Eugene Holden, Jimmy Caci, Robert Benjamin, Morton Goodman, John Anzzalone, Many Gould, Brandi Dailey, Arnold Wesley, Robert Zeichick and Stephen Cino were indicted for a massive bookmaking operation.
After the indictment it was revealed by L.A. police Detective John Motto in a sworn statement that DiMattia had been supplying him with information--albeit bogus information. But DiMattia was convicted on a felony bookmaking charge stemming from the crackdown. Law enforcement officials later said that DiMattia was the target of a contract by the Milano family, DiMattia denied the idea that there was ever a contract out on his life. He got up in front of a federal magistrate shortly after the arrests and argued for Milano's release on bail. Likewise, Milano's attorney, Donald Marks, argued that federal officials cannot have possibly believed that the family planned to kill DiMattia, because they never warned the him of possible danger, which is an obligatory part of the polices duty.
DiMattia is reportedly still active in the Los Angeles family.