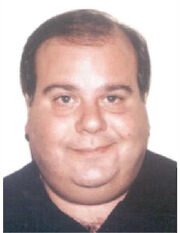 John A. "Pudgy" Matassa Jr. (Born 1952) is a high ranking member of the Chicago Outfit and is believed to be the acting consigliere for Outfit acting boss Salvatore DeLaurentis.
Background
Matassa, Jr. was groomed in the ways of the mafia by Outfit leader Joseph Andriacchi and deceased north side mobsters Vincent Solano (Innocent Vince) and Michael Glitta (Mikey the Fireplug). As a young goon, he helped tax and regulate the downtown Rush Street nightlife district, the Old Town neighborhood and the series of adult theatres and bookstores that surrounded the area throughout the 1970s and 1980s. His father and namesake was a bodyguard and driver for iconic Chicago boss Sam Giancana. Matassa, Jr allegedly became a made member of the Outfit in a Father's Day 1988 ceremony along with Acting boss, Salvatore DeLaurentis and Outfit captain Rudy Fratto.
In the late 1990's Matassa was kicked out as president of the Laborers Union Chicago Local over his alleged ties to organized crime.
In 2009, his name resurfaced in the trial of deputy U.S. marshal John Ambrose, who was convicted of leaking sensitive information to Matassa and others with alleged mob ties. It was believed that Ambrose gave information about mob informant Nicholas Calabrese to Matassa, who then gave it to Outfit soldier Michael Marcello.
Recent Indictment
As of 2017 he was identified as the secretary-treasurer of the Independent Union of Amalgamated Workers Local 711. In May 2017 he was indicted on charges of wire fraud, theft of government funds, embezzlement from a labor organization, and making false records in union records.
References:
http://www.chicagotribune.com/news/local/breaking/ct-reputed-mobster-social-security-fraud-met-20170526-story.html
http://gangsterreport.com/chicago-mob-state-union-still-flying-1