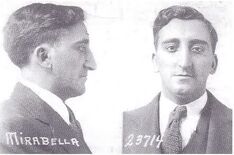 Giovanni "John" Mirabella (1905-1955) was a notorious hitman for the Detroit Partnership criminal organization.
Biography
Mirabella first came to prominence as an enforcer for the Russo Gang, a precursor of the St. Louis crime family headed by Willie and Anthony "Shorty" Russo before moving to Detroit. In Detroit, Mirabella became a member of the Licavoli Mob, a future Detroit Partnership affiliate along with fellow Russo gang member "Jack White" James Licavoli. Mirabella served as muscle for the Purple Gang during the later years of Prohibition. Mirabella was primarily known for the 1930 murder of radio newscaster Jerry Buckley.
In 1930, Mirabella and two other gunmen ambushed crusading journalist Jerry Buckley, who had been publicly attacking organized crime and corruption in city hall in his weekly radio broadcasts. One day, while Buckley was sitting in a hotel lobby, Mirabella and his accomplices came up to him and fired eleven shots, instantly killing Buckley. With the widespread uproar ensuing from the Buckley murder, the Licavoli's and Mirabella were forced to flee Detroit to Toledo, Ohio.
During the early 1930s, Mirabella was responsible for killing a number of family enforcers and rival mobsters, including bootlegger Jackie Kennedy. By 1934, law enforcement was trying to find Mirabella for the Buckley, Kennedy, and other murders. Mirabella escaped to Youngstown, Ohio, where he assumed the name Paul Magine. In 1945, using his new name, Mirabella married a local woman and began operating a produce business. However, according the testimony of Youngstown mobster and former Mirabella chauffeur Charlie Cavallaro, the business was a front. Each week, Mirabella would drive to Toledo and meet with Licavoli.
In 1955, at age 48, Giovanni Mirabella died of cirrhosis of the liver.