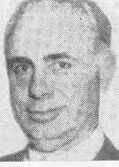 Sebastiano Giovanni LaRocca (December 19, 1901 - December 3, 1984) known as "John La Rock" and "Big John", along with "Lester Larocca", "John LaRocco" and "John Sebastian LaRocca" was a powerful and one of the most successful bosses of the Pittsburgh crime family from the 1950s until his death in 1984. Under LaRocca, the mob became a powerful force in the Pittsburgh area labor unions and he also established rackets in Youngstown, Ohio, sharing some of the territory and income with the Cleveland crime family.
Biography
Born in Villarosa, Sicily, LaRocca and his family emigrated to the United States in 1910, settling in Indiana County, Pennsylvania. As a young man, LaRocca went to work in the coal mines. In 1922, at age 20, he was arrested for assaulting a young woman and sentenced to three years in prison.
In 1957, LaRocca succeeded longtime crime boss Frank Amato as head of criminal operations in Pittsburgh and Southwestern Pennsylvania. LaRocca and two of his captains, Gabriel Mannarino and Michael James Genovese were among the 100+ Mafiosi that attended the legendary Apalachin Meeting at the estate of crime boss Joseph Barbara. Also in attendance with LaRocca were Rochester faction leaders Costenze and Frank Valenti, who were both made members of the LaRocca family. Like most of the attendants, LaRocca was arrested after the police raided the meeting, but was not brought up on any charges.
LaRocca was considered by many to be the most successful of all Pittsburgh godfathers. The LaRocca Family, as it was known, was relatively small, with around 30 made members in 1970. LaRocca worked closely with several bosses including Carlo Gambino of NYC, Angelo Bruno of Philadelphia, Russell Bufalino of Pittston, Nick Civella of Kansas City and Santo Trafficante, Jr. of Tampa. LaRocca, Mannarino and Trafficante were partners in the Sans Souci hotel and gambling casino in Havana, Cuba. The good relations in Florida may have been the reason why LaRocca bought a summerhouse in Pompana Beach. LaRocca was the owner of a couple of legal ventures such as North Star Cement Block Co. and L&G Amusement Co. L&G (the "G" stood for Genovese) was set up to force bar owners to install the company's jukeboxes and a carwash in Pittsburgh. Although the Crime Committee identified LaRocca as a Mafia boss, he remained untouched by the law. As he was aging his failing health however kept him off the streets.
LaRocca remained boss until his death from natural causes on December 3, 1984, at age 82. He was succeeded by Michael James Genovese as boss of the Pittsburgh mob. His son, John LaRocca, Jr., remained an influence in the Teamsters labor union in Pittsburgh.
Community content is available under
CC-BY-SA
unless otherwise noted.