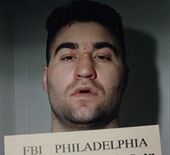 John Veasey was a hitman and soldier in the Philadelphia crime family, he was a close associate to John Stanfa who was his mentor and boss in the Philadelphia crime family
Biography
John and his brother William Veasey were brothers who grew up in the rough and tumble streets of South Philadelphia, and as young adults they followed the same track by working for the Mafia. John, the younger brother, was the tougher and more violent of the two, advancing quickly as a mobster. He became a hit man for one of the two factions in Philadelphia's organized-crime family. William, known as Billy, worked on the fringes of the mob as an associate and was never formally inducted as a member of the crime family. The Veasey brothers were aligned with the Stanfa faction. He was also a friend and associate to fellow hit man, and alleged lover, Philip Colletti.
Government Witness
In late 1993, Veasey at the urging of his brother Billy, decided to leave the mob life and cooperate with the government, Stanfa somehow found out and put out a contract out on his life. Veasey was summoned to a meeting and shot in the back of the head twice but managed to get up and fight off his would-be assassins. Veasey survived and began to cooperate with the FBI.
On October 5, 1995, the 35-year-old Billy was killed by a barrage of bullets as he drove to his job as a construction worker only hours before John, 29, was to testify as a pivotal witness in a racketeering and murder trial against his former Mafia boss, John Stanfa, and seven other reputed mobsters. But he continued to cooperate with authorities and Stanfa was sentenced to life in prison. Veasey went from vicious mob hitman to star government witness to successful car salesman, living somewhere in the Midwest of the United States.
Community content is available under
CC-BY-SA
unless otherwise noted.